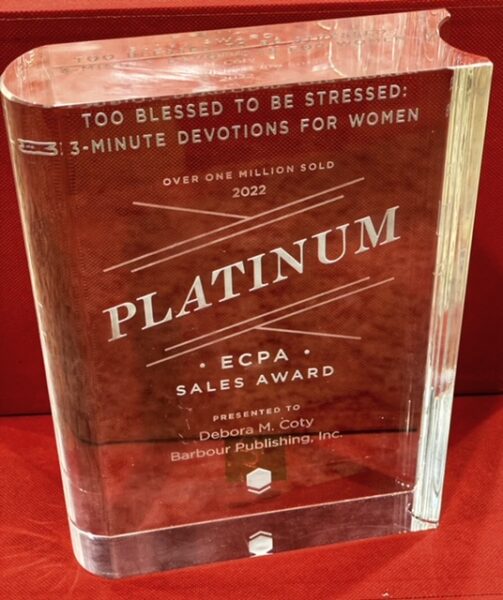 Got 3 minutes to spare?
3-Minute Devotional from the Bestselling Too Blessed to be Stressed–Now Available in a Lovely Journal!
180 uplifting readings alongside journaling space from bestselling author Debora M. Coty pack a powerful dose of comfort, encouragement, humor, and inspiration into your day.
Minute 1: scripture to meditate on
Minute 2: a short devotional reading
Minute 3: a prayer to jump-start a conversation with God
This portable package makes a fabulous any-occasion gift for every woman. You'll find the spiritual pick-me-up you desire in Too Blessed to be Stressed: 3-Minute Devotions Journal for Women.
---
What people are saying…
"Deb, I want to thank you for inspiring us all with Too Blessed to be Stressed: 3-Minute Devotions for Women. I purchased 6 copies at Hobby Lobby and gave them to my friends for Mother's Day. Your  book is small but the 3-minute devotions turn into 24 hours! Again, many thanks!"   ~Cookie Mutschler
---
"Just wanted you to know I'm super blessed by your book, Too Blessed to be Stressed: 3-Minute Devotions for Women. I bought it at the airport several years ago after my Papa died suddenly at 81. My sisters and I are still grieving over the loss of our Papa, but we are healing now after you gave us the revelation that God is our Eternal Father/Papa. Although I have known this to be true for years, sometimes we need to be reminded. Your book has been so helpful for my healing and that of my sisters. Thank you and God continue to bless, from Papa Leroy's girls."  ~ GiGi K.
---
"Passionate, practical, and powerful all rolled into one … a must-have for today's chaotic world!"  ~Laura P.
---
"These short, pithy readings are just the right touch of soul caffeine – perfect for my morning. I love that it's compact and clever, witty and heartwarming."  ~Rhonda R.