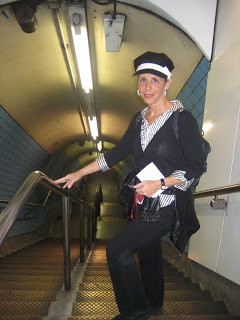 Deb entering the London tube
My husband Chuck and I had a jolly good time on our UK excursion earlier this month. It was an overdue anniversary trip (we intended to go for our 25th anniversary and it's now our 33rd!) and a time of seeking adventure and fun as a couple after a long stretch of real life.
That's important for a marriage, don't you think? Seeking adventure, I mean.
Nothing lights a spark like breaking away from the grind and focusing on each other in a strange land (England, Scotland, Wales and Ireland) with strange food (haggis??) and strange customs (baked beans for breakfast).
Our first day was an adventure in itself. After checking in to our London hotel at 10 am Sunday, we grabbed a few hours of jet-lag induced sleep and set out in the late afternoon to catch the evening service conducted by Chuck's rector friend in Christ Church, located in Virginia Water, which we thought was a suburb of London.
Nay, not so, ye weary traveler.
Virginia Water turned out to a quaint little town not terribly close to London, accessible by way of an underground train (also called the tube), overground train, and brisk half-hour walk from the final station.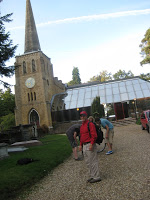 We, of course, were typical clueless American tourists, wandering around the bustling stations trying to figure out how on earth to get where we were going, asking a dozen total strangers what to do, leaving our tickets in the ticket machine after depositing our pounds ($), and trying to figure out the value of change when the size of the coin has absolutely no bearing on its worth. (Come to think of it, American nickles are bigger than dimes too.)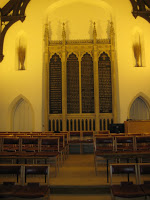 But it was all worth it. Chuck and I re-bonded. We laughed together, fretted together, got lost together, and snapped photos of each other looking perplexed but excited in places we'd never been and might never be again.
Along the way, we met some very nice natives, basked in the rare British sunshine streaming through the train window, discovered chocolate with hazel nuts, and lifted our voices in a 200-year old church filled with hymns sung in lovely English accents worshiping the Almighty God who created us all.
That's adventure, my friend.
Copyright Your Blog Name 2012 at DeboraCoty.blogspot.com