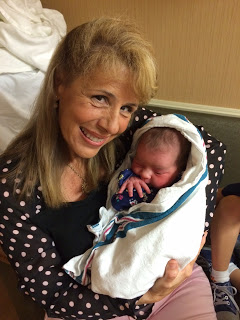 Our sweet little Bree-Bree
Hallelujah – she's here!!!
If you've been keeping up with my FB and newsletter posts (and I hope you have!) you know exactly who I'm talking about.
She's been referred to alternately as:
Baby #1
Girl Baby
The firstborn twin from different mothers
She's the tiny but enormous blessing that many of you have helped bring into our family with your prayer support, financial support, and words of constant encouragement.
We are very, very happy as we await the birth of her brother, the other twin from different mothers (Papa God blessed my daughter – who is my best friend as well as backdoor neighbor – with an adopted girl and a biological boy due within 2 weeks of each other). Nothing but joy, joy, joy, singing bluebirds and misty sunbeams. Right?
Well, almost. Sigh.
Alas, isn't there often a fly in the pudding? A rip in your jeans? Someone who throws lightning bolts at your parade?
This particular fly/rip/bolt-heaver was an acquaintance on the tennis court next to mine the day after our precious blessing was born. The very day the adoption papers were signed and sweet Bree-Bree became a forever piece of our hearts.
"So she's adopted, is she?" this woman asked, as soon as I finished gushing out the awesome story of her birth. "Does she, um … does she look like the rest of you?"
"Well, not exactly," I naively answered. "She's got dark hair and the rest of the family are more blond, but it's no big deal. She'll also probably be quite tall and my side of the fam are all shorties but that's cool with us."
"Dark hair?" the woman continued, glancing around to see who might be listening. She leaned in close. "What about her skin tones?" I honestly had no idea where she was going with this.
"Uh … I guess she might have a little more olive tones than we marshmallows do." What in the world is she getting at? I thought to myself.
Then she dropped the bomb.
"She's not … she's not black, is she?"
I swear I felt like someone had socked me in the stomach.
Indignation erupted somewhere in my gut and rage poured of me out before I could stymie it. I don't even remember what all I said, but it was loud and clear and included the fact that my family is colorblind and proud of it and when my daughter and her husband applied to foster and adopt, they prayerfully specified that children of ANY race were more than welcome to be loved and loved and loved some more in their home. We fully expected a child of a different race and we were delighted about it.
As I paused to take a breath, I recalled the pain of the friend who confided that her parents refused to accept the beautiful Latina and African-American daughters she and her husband had adopted. They only sent Christmas and birthday gifts to their four biological children and ignored the other two. At this moment, her pain became my pain.
I felt disgusted just having this conversation. Are you kidding me? How do people like this sleep at night?
Before me flashed the lovely face of my best friend in college, Nadine, who used to laugh about being able to easily pick me out of the crowd in the photos of her wedding – the only pale face amid hundreds of color.
And my current BFF and heart-sister, Eddie, who is one of my most beloved spiritual mentors. And happens to be black. (By the way, Eddie considers herself black rather than African-American, so on the rare occasion that a label is required, that's how I refer to her too.)
I've decided that if I ever need a racial explanation, I prefer peaches and cream. No. On second thought, make me white chocolate.
I love the way my Indian friend Lali refers to people flavors. She considers herself "curry" and other races as chocolate (black), vanilla (white), swirl (mixed), salsa (Latina), sushi (Japanese), mango (Filipino), pineapple (Polynesian) … you get the idea.
Seriously. Why can't we all realize that our different flavors are simply Papa God's way of spicing up our world?
So after I removed my tennis racket from this woman's throat (not really, but I did consider stuffing it where the sun don't shine a time or two) I said a prayer for her. And for me. And for all the children of the world who have to deal with bigotry … red, brown, yellow, black and white, they are precious in His sight.
Jesus loves the little children of the world. And so should we.
Copyright Your Blog Name 2012 at DeboraCoty.blogspot.com