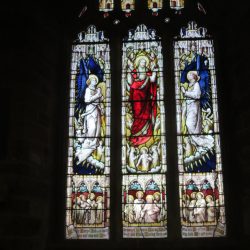 First of all, congrats to the happy winner of my Christmas Stress-Busting Giveaway: Cassie Nations!
Cassie won a stress-busting prize package including a $25 Amazon gift card, the Too Blessed to be Stressed 2017 Planner, and an autographed copy of Fear, Faith, and a Fistful of Chocolate, Cassie's choice from my book collection.
Sincere thanks to all of you who entered but didn't get drawn this time … big bummer but hang in there for more great freebies right around the corner in celebration of my new 365-day devo debuting January 1: Too Blessed to be Stressed: Inspiration for Every Day, so fear not! (Seems an appropriate phrase for this time of year, don't you think? Those were the same words Gabriel said to Mary while breaking the amazing news of her pregnancy.)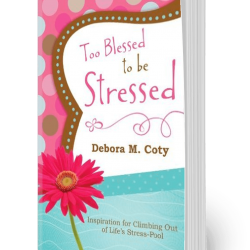 Speaking of pregnancy … the momma book (my publicist calls it The Mother Ship), as I call Too Blessed to be Stressed, the lovely literary lady who spawned over a dozen offspring now, is once again expecting.
Yep, I was out-of-my-mind excited to sign another contract with my publisher this very week (my Christmas gift from Papa God), for Too Blessed to be Stressed for Moms, set for release in spring, 2018. Woohoo!
Okay, a little soul confession here: you probably didn't know this, but every time I finish a book, I'm sure it's my last. Not of my own choosing – no way – but because the book publishing biz is fickle and unpredictable, and there are no guarantees another book will ever be contracted. Ever.
So I clutch the newly completed book to my chest as bittersweet tears trickle down my cheeks. I thank Papa from the bottom of my heart for the unexpected and awesome (even if it was for just a short time) writing ministry that truly fulfilled my destiny (if you've never heard my writing testimonial, remind me to tell you sometime; it'll give you God bumps!) and made Ephesians 3:20 my life verse: "To Him who is able to do EXCEEDINGLY ABUNDANTLY BEYOND all that we ask or think, according to [His] power that works within us, to HIM be the glory … forever and ever. Amen."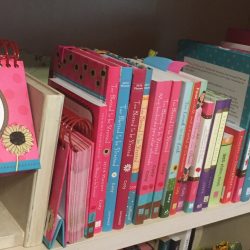 And then I blow a reluctant goodbye kiss to my bookshelf of blessings (all the books I've helped create) and lift my hands in praise and gratitude to the One who specializes in BEYOND.
BEYOND our ignorant petitions.
BEYOND our meager expectations.
BEYOND our limited imaginings. Exactly like the verse says.
So you see, to me this new book contract really is an incredible gift. A gift of mercy and grace from Papa to His little girl who didn't know she could write until she was 45 years young. It's never too late to chase the dreams He places in your heart.
And you know what? He's got other unexpected BEYOND gifts wrapped and waiting for all His beloved children, including you, my BBFF. What surprises might be just beyond the next twist in your road?
May the hope and joy of celebrating our Savior's birth embrace you with His love this Christmastime.
Hot chocolate hugs, Deb