The biggest thrill of Christmas, 2016 was ripping open a gift from my daughter Cricket and daughter-in-love, Rebecca, to find an apple and a note. Puzzled, I held the shiny apple in my hand as I read: "To Mom, a springtime girls-only trip to the BIG APPLE with your two girls."
Big WOW! My first time in New York City!
I could hardly wait for March. My heart flew as high as the plane as my girls and I headed off to a four-day adventure in the city that never sleeps. We hardly did either as we walked and tour-bussed from our hotel in the heart of the city to see the sights.
Sure, it was chilly but this died-in-the-seersucker Floridian LOVES chilly! – snow was still piled up from last week's blizzard, but despite forecasted rain every day, we saw nary a drop until we were ubering along to the airport to come home.
In no particular order, we saw Radio City Music Hall (home of the famous high-kicking Rockettes).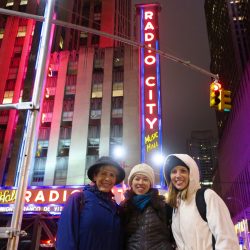 Then we mingled with the throngs on Broadway, where I sang along at the top of my lungs to every single awesome song in the Broadway musical, "Beautiful," all about the life and songs of my teen "Tapestry" idol, Carole King. "You got to get up every morning, with a smile on your face, and show the world all the love in your heart … people gonna treat you better, you're gonna find, yes you will, that you're beautiful … as you feel! " You're singing with me, aren't you? Such GREAT songs – what's not to love?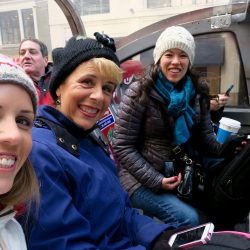 We visited Times Square, where street performers entertained and gigantic billboards flashed their messages all around the spot where we watch the ball descend every New Year's Eve on TV.
Dining at Rockefeller center was a blast – we were seated beside a huge glass wall where we could look out at the ice skaters spinning and twirling and busting tushie as we enjoyed delicious hot soup and sandwiches and sipped hot tea.
We did the Empire State Building experience at night, where it was hard to say which blew us away more – the wind or the incredible view of sparkling Manhattan. What a wonderful time we had!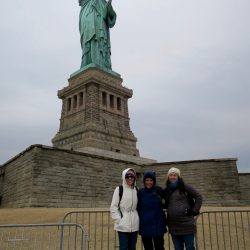 Of course there was the Statue of Liberty, and Ellis Island to tour, both most enjoyable with my chicas.
And you can't go to New York without seeing the World Trade Center Memorial; I fought tears during this moving, almost spiritual experience.
Then, it seemed we had hardly arrived for our perfect vacay when it was time to go. Everyone got that message but the airline pilot. After a full day of doing New York, we arrived at the airport two hours early for our flight, only to be told, at the scheduled time of departure, that our plane hadn't even left Orlando; it had yet to fly the three hours to NYC, unload, clean up, and board us for the three hour flight back to Orlando. S'always something, isn't it?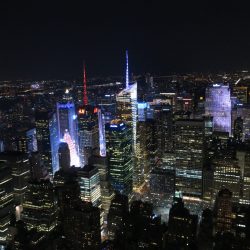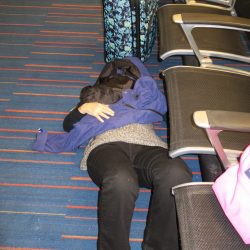 Many hours later (felt like days) I finally arrived home at 6 a.m., exhausted, but treasuring a bouquet of priceless memories.
So I hope you don't mind me sharing some of them with you. Have you been? To NYC, I mean. I'd love to hear about your juicy bite out of the Big Apple too!
And don't forget to enter my new Easter Blessings Giveaway in the "Freebies" section of my website www.DeboraCoty.com
All you have to do is just share your fave Easter blessing with me (hint, hint: some of your stories may wind up here on my blog) and you'll be entered in a drawing to win not only:
A copy of my new 365-devo, Too Blessed to be Stressed: Inspiration for Every Day, but also …
A Too Blessed to be Stressed shirt just like mine in the photo. Say, we can be twins as well as BFFs (Blessed Friends Forever)!
But don't put off entering – the drawing will be held on Good Friday and the winner will be announced on Facebook (are we friends?).