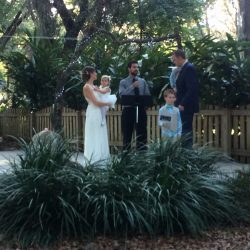 Ah … it was a beautiful service. I do wish you were there.
I'm referring to the 10th Anniversary wedding vow renewal of my daughter and son-in-love last weekend. I'll admit I was a bit skeptical about seating 100 guests outdoors in the bowels of the mosquito cesspool of the world (central Florida) to witness the grand event, but thanks to preliminary foggers and Citronella bug repellent disguised as tiki torches (I always want to call that stuff salmonella for some reason), Florida's state bird was no problem.
Plus, my clever daughter had strategically placed festively decorated cans of OFF! here and yon bearing a wedding-appropriate message: Be Smitten, Not Bitten.
I had the unique honor as Mimi, to corral my twin almost-tw0-year-old grands, once the service started and they had properly shown off their lovely white wedding clothes. I was also commissioned with keeping them white during the remainder of the ceremony … which, please allow me to remind you, occurred OUTDOORS on a basketball court surrounded by BLACK DIRT.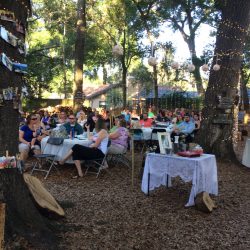 Bree, who has never liked noise, strangers, or anything new, clung to me like a well dressed albeit mad monkey, so controlling her was no problem. Breydon, on the other hand, likes nothing better than to sit in, play in, and shovel in dirt like a gigantic earthworm. This activity was frowned upon by his mother as an obvious  distraction to the elegant and very serious exchange of forever wedding vows taking place behind him.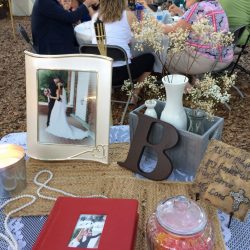 So the little pippins and I ended up inside the house wreaking havoc for about 15 minutes of the service, and then were cued to return back to the forefront where I gladly turned over said munchkins to Mommy and Daddy for family photos.
Some mimis, of lesser stamina, might have burst into flames in the midst of the heavy responsibility and tension. But I, of course, was simply too blessed to be stressed. [cough, hack]
In all, it was a marvelous and moving event, dirtballs and all. I do wish you were there.