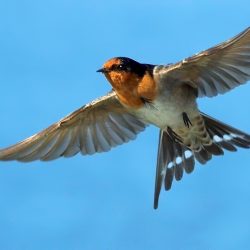 I glanced out my upstairs window this morning in the fresh light of dawn and did a double take. A long tapered tree branch in my yard was inexplicably bouncing up and down, up and down, up and down … like it was waving howdy to the brand new day.
There was no wind to speak of. No bounding squirrels. Nothing discernable to make a tree act like that.
What in the world? I walked out on the balcony for a better look. Never seen anything like it.
A bird – no idea what kind – was hanging upside down like a bat, gripping the very end of a thin branch in his feet, intentionally bouncing up and down, riding the ding-dang thing like a bungie cord. Every few bounces he'd flap his wings to add a little oomph to the down stroke, effectively trampolining back up higher on the upswing.
Craziest thing ever. A bat birdie bungie. Made me LOL. Which, sadly, frightened the little dude away. Or maybe he was embarrassed at being caught acting silly by a human.
I wonder what other goofy things go on in the animal kingdom when we're not looking.
I've thought about that playful little fellow for hours. His cavorting certainly added lightness to my day. I even contemplated tying my own bungie to a stout tree branch and joining him next time. A bat Debbie bungie.
We humans can be far too serious. Maybe we need to play more. But perhaps not upside down in trees.
So tell me, BBFF (Blessed Blog Friend Forever), what's your fave way to keep playfulness part of your everyday?
P.S. Don't forget to enter my Tee & Tote Giveaway to win a great Too Blessed to be Stressed give package, including a cool tee shirt and tote stuffed with goodies! Just click on "Freebies" right here at my website and you'll find the giveaway link.