I suspect that you, like me, have been dismayed and dismantled by recent headlining hate crimes, politically motivated mud-slinging, and incomprehensible violence against one another.
Sadly, it's nothing new. Since Cain lifted that first crushing stone against his brother, enmity has rocked our sin-infested world.
Papa God created us each differently and we're bound to do, think, and see things differently from each other. Yet we're all part of the same race – the human race – and we share existence on the same planet. We simply must find a way to get along.
So what should we do? I firmly believe stockpiling AK47s and mounds of ammo isn't the answer.
Then what is?
As is my MO, I turned to the Bible, Papa's ultimate POV, for answers. Here are a few tips I found on how to get along with disagreeable people, whom I call NIB's (Nuts in my Batter):
Proverbs 29:22 – Defuse your anger. Release steam in a healthy way. Scream into your pillow. Whack the stuffing out of a ball (that's why I'm a tennis addict!). Pour out your anger in a long letter, then destroy it. Confide to a trusted friend, but take care not to fall into the trap of kindling your fire with her empathy.
Leviticus 19:16 – Resist the temptation to tell everyone about the injustice you've suffered. Gossip (even rooted in truth) only ends in pain.
Romans 12:17 – "Don't hit back; discover beauty in everyone." (MSG)
Matthew 5:44 – Pray for your NIBs, especially for their salvation. Want a shocker? You don't have to like someone to pray for them. But you may be surprised how bitterness evolves into something quite different when you're on your knees.
Philippians 2:3 – "Do nothing from selfishness or empty conceit, but with humility of mind regard one another as more important than yourselves." (NASB)
Psalm 37:8 – Feeling anger is not sin; it's human. Acting on it is sin.
Proverbs 16:7 – Respond, don't react. Take charge of your own attitude and actions. You can't control the NIB's but you're responsible for yours.
Matthew 5: 38-41 – Ask yourself, "What would Jesus do?" Cliché, maybe, but certainly applicable. Remember how He remained silent before His false accusers at his Crucifixion trial (Matthew 27)? Have you ever wondered if He was railing about injustice on the inside? You or I surely would have been. Regardless of how much inequity you've suffered, behave outwardly like Christ, pray for His power, and your inner emotions and thoughts will gradually transform to become more Christlike. Fake it at first if you have to … the act becomes fact as God changes you from the outside in.
Romans 12:19-21 – When you're ready to finally let go, imagine packing your anger into a trunk and watching the UPS truck drive it away. Give it to Papa God and don't take it back. When revenge knocks on your heart's door, turn the dead bolt and picture the back bumper of that truck as it fades into the sunset. The anger is no longer yours. You've given it away to the One who will handle it for you. Let Him.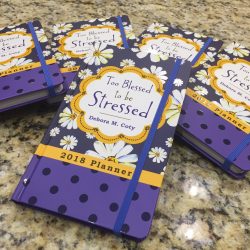 My dear BBFF (Blessed Blog Friend Forever), I would love to hear your take on getting along with those who disagree with your beliefs … or those who just plain annoy the bear grease out of you. How do you handle your NIBs?
A friendly reminder that my Too Blessed to be Stressed 2018 Planners are flying off the shelves at bookstores and online (i.e. Amazon and CBD). Get yours before they disappear!