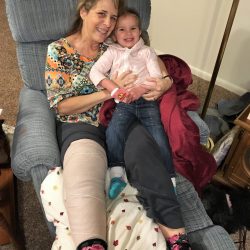 Raise your hand if you know what it feels like when a body part you never really gave much thought to before suddenly aches and throbs and burns incessantly. Owww becomes your go-to verbiage. Get up: Owww. Sit down: Owww.  Take the dog for a drag: Owww. And that itsy bitsy body tissue the size of a squashed jelly belly becomes ALL you can think about.
Silly girl. You thought you were a big girl, brave and nearly unstoppable. Until the wee wittle boo-boo stopped you. Cold. In your tracks. Owww. 
In the indulgent spirit of Woe is Me, I'd love to fill up this entire blog post whining about my achy breaky knee and how miserable one mini-crepe-sized disc (meniscus) can make one. For SIX LONG weeks. Just shoot me.
Instead, I will put on my big girl panties and do my durndest to find some sort of spiritual application to divert and uplift both of us (you, my faithful BBFF, and me) from my pit of despair. Did I mention I'm feeling mostly dead? [Who knows what movie that's from???]
When I asked Papa God to direct my attention somewhere productive, here's where He took me:
"But God has made our bodies with many parts, and he has put each part just where he wants it … In fact, some of the parts that seem weakest and least important are really the most necessary … So God has put the body together in such a way that extra honor and care are given to those parts that have less dignity. This makes for harmony among the members … If one part suffers, all the parts suffer with it."   ~1 Corinthians 12: 18-26, NLT
Yup. Isn't it amazing how one passage you can read a hundred times suddenly jumps out and bites you the hundred-and-first? So very true that some body parts that seem weakest and least important turn out to be the most necessary. My tiny knee disc has never received any dignity or honor or accolades. Not even one award. I've just always expected it to be there and do its job.
But when it's not able to do its job, THEN I most assuredly notice. Owww.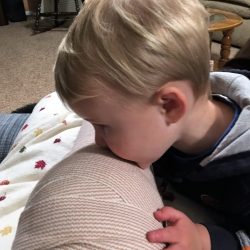 So I've decided to make a list of unheralded body parts that I'm thankful for. I hereby praise Papa God for an ingenious body composed of interdependent parts and the lovely harmony among even among its lowliest and oft-overlooked members: pinkie toenails, digestive juices, teeth that don't ache, eyelashes (although age seems to be thinning these as other body parts thicken), ligaments that hold every single joint together, knuckles, mucus, pulleys that keep finger flexor tendons from bowstringing and provide the ability for precise dexterity, throat hangy balls, liver enzymes, ear wax, red blood cells …
Say, won't you join me in adding a few of your own to the list and praising Papa God with me for the least of these, my sistern?
P.S. If you enjoyed this post, please click on the subscribe button on the right of your screen so the next one will automatically appear in your inbox. Stay tuned for another great giveaway coming soon.