Wow! Many thanks to all of my BFFs (Blessed Friends Forever) who sent me your fave winter blessings to enjoy alongside you. I wish I could print them all, but here are a sampling of the many that plucked at my heartstrings … I know they'll bring a smile your way too, sister BFF.
Oh, and wait for it – the announcement of the Play It Again Giveaway winner is at the end of this post.
Debbie Gladden's winter blessing: "No snow because I live in FL, but we love to get Cuban sandwiches and deviled crabs. We sit around and remember when. Sometimes our memories don't match but that's ok."
This slideshow requires JavaScript.
I hope these precious winter blessings brighten your day. THANK YOU Beth Miller, Gloria Foster, Peggy Trittipo, Becky Alexander, Cookie Strickland, Carol Walker, and Melissa Anne Heine for sharing these delightful photos with us. Our community of BFFs is amazing! Feel free to invite your not-yet-too-blessed-to-be-stressed girlfriends to join us – the more the blessed-er!
Okay, without further ado, I want to congratulate the winner of the random drawing for the
 Too Blessed to be Stressed gift set that can no longer be found in stores: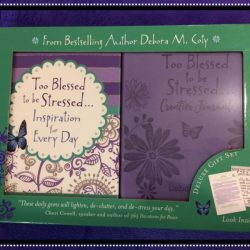 The winner of the Play It Again Giveaway is none other than … Hjalmar McMillan, a blast from my past. I hooted bigtime when Hjalmar's name was pulled out of the hat – she was my doubles tennis partner on our long ago and far away high school tennis team and I'm sorry to say I haven't seen her in decades. Congrats, Hjalmar! If I do a tennis extravaganza prize one of these days, I hope you win so we can swat some yellow balls around together like the good ole days. 
Listen, my buds, if your name wasn't picked this time, there's no need to fret … a Valentine's Day giveaway is coming up within the next few days so be sure to friend me on Facebook so you'll see the announcement, and/or check the "Freebies" page at www.DeboraCoty.com where I post all the giveaways.
And while you're there, consider joining my BFF Club – my inner circle of girlfriends who graciously help promote my ministry and in return, receive their own "insider" newsletter and get some extra special exclusive perks.
*If you enjoyed this post, be sure to hit the subscribe button on the right of your screen so that future blog posts will automatically appear in your inbox.