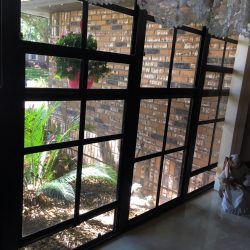 Okay, I'm tired of my northern friends complaining about shoveling snow and defrosting pipes in March. It's not that I'm unsympathetic, but hey, we south of the Mason-Dixon demand equal grousing time.
Granted, our nemesis isn't icy and white. No, it's brown and yellow.
Although March temperatures are generally terrific (60-70 degrees), you can't open your windows to enjoy it for the yellow breeze. Might as well call it wheeze, for that's what you do when the oak pollen infiltrates.
Your living room furniture adopts an amber glow and a fistful of antihistamines starts accompanying the eggs on your breakfast plate to keep your nose from dripping into them.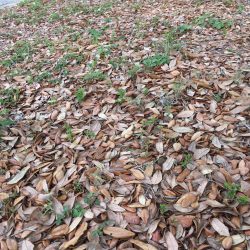 We have this Battle of the Itchy Facial Orifices every year, but it seems a lot worse this year. I heard some expert say that the 5 varieties of oaks common to our fair state usually stagger their bloom times, but this year, because of our frigid two-week winter (we even wore socks!), some were delayed and now they're all blooming at the same time.
So in the name of fairness, since we already have tons of snow songs, I thought I'd share my pollen song. Do sing along – to the tune of Peter, Paul and Mary's "Blowin' in the Wind":
How many oaks does it take to shed
ten thousand leaves on my lawn?
How many bags must I rake up to fill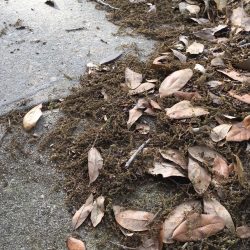 and pile by the curb before dawn?
And how many cars must be buried in leaves
and thick yellow dust you can't breathe?
The pollen, my friend, is blowin' in the wind. The pollen is blowin' in the wind. 
But wait. That's not all. I have one more stellar celebration of the season I wrote just for you:
You know you live in Florida in the Springtime when:
You get a blizzard of 10,000 oak leaves every time the wind gusts.

You have to rake your dog.

Ten minutes after you blow your driveway, it has disappeared again.

You have to scrape a peephole on your car window to see through the thick yellow pollen.

Oak pollen pieces we call Worm Skeletons

Only the tip-tops of your plants are visible in your submerged flowerbed.

Your lawn ornament looks like the neighbor dog's latrine.

Previously white lawn ornament

The gazillion acorns pelting your roof sound like the squirrels and possums are shooting Uzi's at each other.

You use your mower every other day, more as a leaf vacuum than to cut the grass.

Friends leave with yellow bums when they sit on your patio furniture.

Every time your dog walks through the kitchen, he leaves a trail of worm skeletons.

You have to hose off your car to see what color it is.

Everyone walks around making a disgusting "Hhhgggkkk" sound like they're trying to hock up a hairball.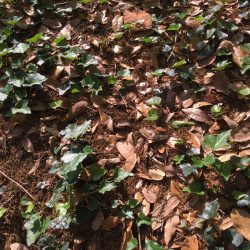 These are just a few of my ruminations about spring in the South; I'd love to hear the ones YOU come up with, my oh-so-creative BBFFs (Blessed Blog Friend Forever).
In fact, I'll send a copy of Too Blessed to be Stressed: 3-Minute Devotions for Women to a randomly drawn BBFF who comments below with your very own entry for "You Know You Live in Florida in the Springtime When…"
And be sure to check out my brand new Spring Fling Giveaway at DeboraCoty.com (just click on "Freebies"). I'm giving away copies of my two newly released Too Blessed to be Stressed "baby blessings"!