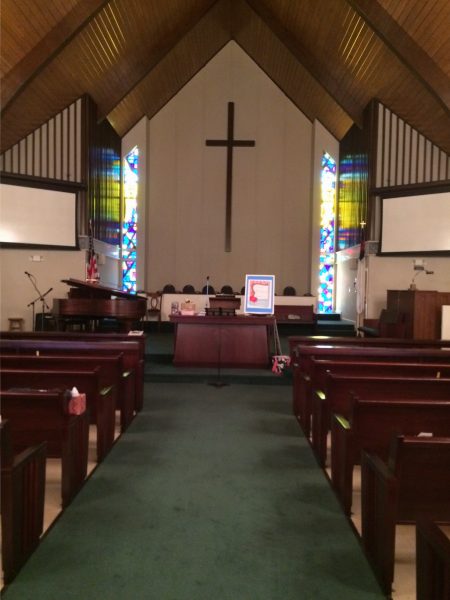 Last Sunday I attended a reunion of sorts at the small church in which Spouse and I raised our kids. It felt like a passage back into time. Very little had changed in the 25 years we'd been away – same warm blue walls, identical sweet spirit of the welcoming people who currently worship there, the very same wooden pulpit from which biblical preaching had inspired me to a deeper relationship with Jesus, and … would you believe it? The same off-brand spinet piano that taught me to sing my songs and share a little Jesus-joy in front of an audience without wetting my pants.
Well, most of the time, anyway.
Memories of my music-writing phase lingered in my mind as refreshing as fresh mint on the palate. My music-writing phase lasted about ten years (you've gone through creative phases too, right?) and oddly enough, occurred during the busiest time of my life while my kids were newborns and fledglings. It was followed by ten years of desperate survival (which by necessity was creative in its own way) as the kids found their wings and then finally by my book writing phase when the chicks finally evacuated the nest.
I'm still in that phase today and looking forward to the next one Papa God springs on me.
It was all I could do not to rush up front during the reunion service and hug that sweet old piano. I remembered Sunday after Sunday, me standing up there, usually shaking like a leaf in a hurricane, before the same beloved and longsuffering group of believers, sharing the myriad of songs that Papa God popped unbidden into my head – some good, some not so good – but all were from my heart. My best attempt to intimately worship my Creator through the creative outlets He provided me.
(A side note here: My gift was song writing but I had no one else to sing them but me, so in order to share them, I had to do both. I only became comfortable singing in public when one day years later I ran across an old cassette tape of my then two-year-old Matthew singing "Jesus Loves Me" in his drastically off-key toddler voice and to me, it was the most beautiful sound in the world. I then realized that Papa God feels the same way about my singing, and THUD, the embarrassment wall came a tumblin' down. I have not been ashamed to sing my songs in public ever since, and in fact, I almost always include one as a singalong at the end of my speaking engagements. Go figure – people love them!)
I learned so much at that little church. I learned how to perform in front of a crowd (which I know now was training in becoming the professional public speaker I am today). I learned not to try to liberate your wedgie while on a platform. I learned to paint pictures with words. I learned how to draw other people into worship alongside me. And I learned to watch Sarah Beach.
Sarah Beach was a dear, soft-spoken woman about a decade older than me. She taught the church preschoolers for many, many years and helped bring up both my kids to know the sweet, sweet love of Jesus. Sarah was an encourager. Not only did she encourage the wiggly, too-energetic toddlers in her care, she regularly encouraged their chronically drooping parents.
And she took on a special ministry of encouraging me in a very special way.
Every time I gathered all the courage I could muster and stood quivering in front of that small congregation, attempting to share one of my newly written songs, Sarah's was the face I sought. Because she took it upon herself to encourage me while I cut my teeth doing something completely foreign and frightening to me at the time.  I could count on Sarah's smile beaming at me from her seat in the audience, her head nodding, her gentle shoulders swaying to the beat of the music from the first note to the last. She was right there alongside me – my biggest (and sometimes only) supporter. At least that was my perception from the platform.
When I feared I would faint, I sang to Sarah.
When I made epic blunders and choked up with tears and thought I'd never make it to the end of the song, I sang to Sarah.
When I couldn't remember the words to the song I had written, I made up words for Sarah.
Hers was often the only smiling, encouraging face in the room. I don't know if it was because everyone else hated my songs or if blank, emotionless, serious faces are just a byproduct of going to the church of the frozen chosen, but I'll tell you one thing. My experience there taught me to ALWAYS react when someone is putting themselves out there on the line, sharing something meaningful from their heart.
Encouragement via engagement is such a small thing. It doesn't hurt to smile; it only helps. Them. You. It costs us nothing to give but may mean the world to the person receiving it. It might even change their life. It did mine.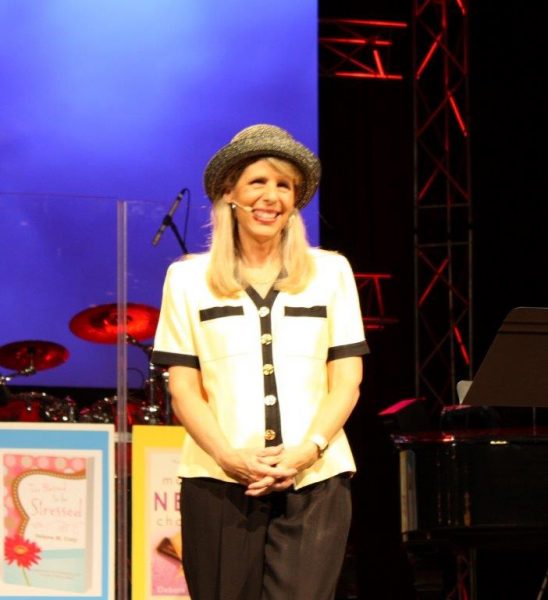 I feel sure that I would have not have had the guts to pursue a public speaking career if it hadn't been for those broad smiles of encouragement from Sarah Beach. And I really mean that. Little bits of honest encouragement at the right time can help someone more than any sermon or Bible Study or well meaning self-help book.
So to this day I make it a point to emulate Sarah's smile whenever someone is sharing from their heart – whether it be preaching, singing, sharing their testimony, or juggling pot-bellied pigs. If they are tying to honor Papa God by it, I'm right there alongside them and I make sure they know it by my body language.
Everyone can have a ministry of  countenance encouragement like this. Even you. It's such a small thing but truly has such an ENORMOUS impact. Won't you join me as a smile minister, dear BBFF (Blessed Blog Friend Forever)?
*Hey, I've got a new giveaway brewing and it's a doozy. I'll be posting the details later today at my website www.DeboraCoty.com – just hop over there and click on Freebies then the Sizzling Summer Giveaway. And while you're there, be sure to sign up for my FREE e-newsletter to be on the cutting edge of all my news. An exciting announcement is just around the bend!