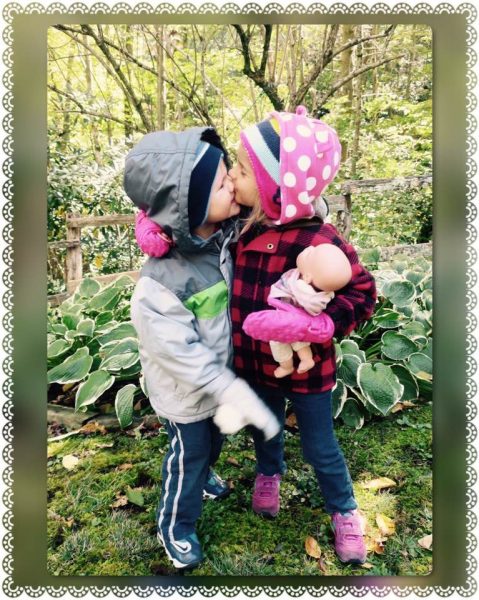 Hey BBFFs, I loved your comments after I introduced the topic of Stress-mas in my last post and asked how you handle the the performance pressure and general mayhem. (You always make my day when you take the time to respond!)
Now, I'd like to make a few suggestions that I've found invaluable in freeing myself up to enjoy the joy of the season; I hope they work for you too:
Give your constipated calendar an activities enema

. When those little squares on your calendar get clogged with activity and you're feeling (as my granny used to say) tight as a tick, sit down with your calendar and a red pen; pray hard for insight, clarity, and ruthlessness. Determine the top 3 priorities Papa God would have you focus on this Christmas season – yep, only 3 – then slash through everything on your calendar not conducive to those priorities. Now breathe. Smile. And ditch the guilt. The enemy will try to use it to attack you.

Look ahead and cook ahead.

Determine your meal and Christmas cookie ingredient needs ahead of time and then watch for deals. Be flexible; adjust your menu to accommodate sales. For example, if you find a BOGO on canned peaches, tweak your menu to peach cobbler instead of plum pudding. (Little Jack Horner may be disappointed but he'll get over it.) Many dishes can be prepared and/or cooked ahead of time – like your ham or turkey (a great tip from a professional chef: cook two days ahead then refrigerate in all the juices; simply reheat on Christmas morning with all the luscious aroma and none of the fuss. Your meat will actually be more delicious after marinating in stock all that time!). Another example is the

Gorgeous Grape Salad

from my Too Blessed to be Stressed Cookbook  – it's always a unique hit and will happily hibernate in your fridge for up to 5 days ahead (recipe below). Simplify meal prep and clean-up by making good use of your slow cooker and preparing dinner-in-one-pan dishes (lots of great recipes for both in the "Time-wise" section of the Too Blessed to be Stressed Cookbook). Remember: Spend your precious time with people, not pots!

Paper or plastic?

Yes. Both. Throughout Christmas week, snub that dishwasher and buy some pretty but sturdy disposable plates, cups, and tableware. My motto: An ounce of unused dish detergent is worth a pound of Christmas cheer.

Make Christmas a Holy-day, not just a holiday.

As a family, grab the popcorn and watch a quality biblical account of the first Christmas, like "The Nativity Story" – my personal fave because the Wise Men are such a hoot. In fact, we just watched it last week; great way to kick off the Holy-day month focusing on the true reason for the season … before we lose ourselves in the fray.

Be intentional about prayer.

Set aside time to pray every day. Make it a priority to communicate with your Savior and draw from His strength. You'll need it when Aunt Bertha arrives.

Ask Papa God for His peace.

Not the veneer kind the world gives … the deeper kind that transcends all human understanding as found in Philippians 4:6-7: "Do not be anxious about anything, but in everything, through prayer and supplication with thanksgiving, let your requests be made know unto God. And the peace of God, which surpasses all understanding, will keep your hearts and your minds in Christ Jesus." (More about this awesome Phil 4 covenant in an upcoming post.) In the meantime, here's my acronym for PEACE:
P: Placing
E: Each
A: Aggravation at
C: Christ's feet,
E: Expectantly (Fully expecting Him to give us His supernatural peace like he promised in the Phil 4 passage … and He truly will! )
Yes, girlfriend, there will be lots of opportunity for you to apply my acronym this Christmas with all the aggravations galore – family squabbles, overcooked food, wardrobe malfunctions, epic failure of Christmas Day Plan A … then B … then C …
So I've found that the biggest decom-stressor of all is to remember who is ultimately in control (hint: it's not you or me!), and after all, some of the best childhood memories are made in the midst of chaos.
*Woohoooo! My Stress-mas Survival Giveaway has arrived!
Catch all the details on how to win this terrific prize package right here at my website, DeboraCoty.com – just click on "Freebies" then the Giveaway. It's super simple to enter, doesn't cost a thing, and the winner will be announced just in time for Christmas on Dec. 23. It's my way to give back to my BBFFs for your support in telling others about my Too Blessed to be Stressed books all year long. Give yourself the coolest gift of all this year – toss your name in the fedora and just see if you're not the winner!
Now here's that recipe I promised:
Gorgeous Grape Salad (page 130 in the Too Blessed to be Stressed Cookbook; 100+ recipes each requiring less than 20 minutes prep) 
1-pound red seedless grapes + 1-pound green seedless grapes, washed and drained
8-oz sour cream and 8-oz softened cream cheese (I use light to save a few calories)
3 Tbsp sugar (may add a bit more to taste if you like; I like mine more natural and less sweet)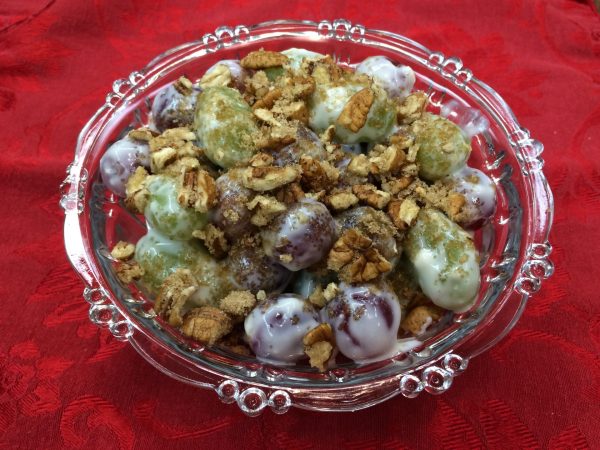 Blend sour cream, cream cheese and sugar; fold in grapes and gently stir until well coated. In a separate bowl, mix together 1/2 cup brown sugar and 6-to-12-oz chopped pecans or walnuts (to your nutty preference).  Refrigerate until needed. Sprinkle topping on grapes right before serving.
*This recipe makes a VERY large batch, so I often half or third it to take to different events. Looks great served in a clear glass serving bowl so you can see the Christmas colored grapes covered with snow. Let's not imagine what the brown nut topping on the snow looks like 😉