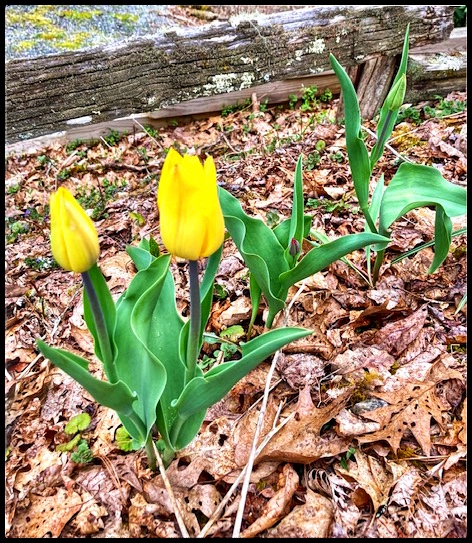 I love spring in the mountains. Especially since my usual habitat is the seasonless flatland of Florida where the only hills we have are speedhumps.
On our annual springtime traipse to our remote Smoky Mt cabin this year, I noticed something new. After the last big freeze (we often dip below 32 degrees in April at our high altitude), little green nubs began poking their way through the soil of the flowerbed. Now, I'm used to the daffodils, lilies and hostas that make their annual appearances about this time every year – and I always celebrate and cherish them.
But these leaf nubs were different. They were an unusual shade of brilliant green, and they were smoothly fluted.
What could they be?
I watched with interest as the nubs grew into stems, which then budded and finally blossomed. Crazy-beautiful, bright, colorful blooms that had never before graced my humble little flowerbed.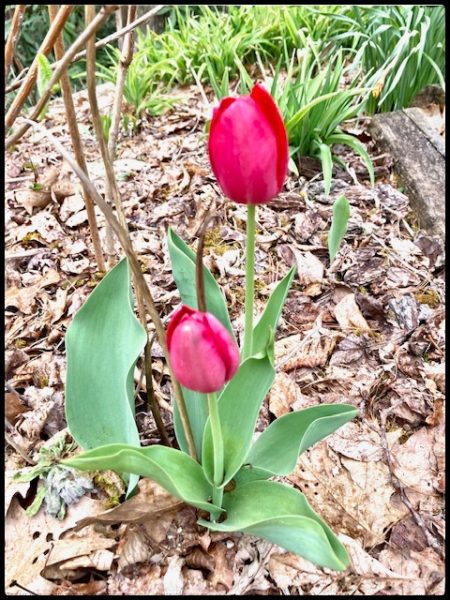 Tulips. They were tulips.
But where had they come from?
Twas a mystery. Until I suddenly remembered that last Easter, I'd given my mother, daughter, sister and several besties lovely decorative pots of tulips that I simply could not resist when I passed them at Publix. I've always thought tulips were happy flowers and as a child I admired their lavish spring beauty at my granny's house in north Georgia. Although I know tulips won't grow in central Florida and it's essentially flushing good money around the bowl and down the hole to gift something that will only live for a week, they were just too gorgeous to pass up.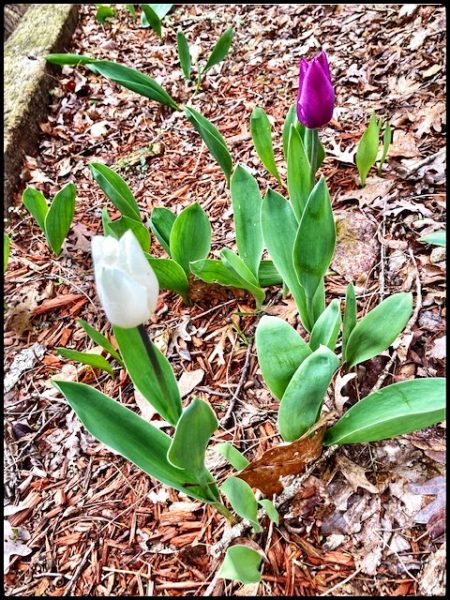 So the sweet blossoms brought beauty and encouragement and joy to my loved ones for a few days. Then they bowed their little heads. And died.
Soon nothing was visible where there had once been vibrant life but dirt in an empty pot. Those flowers were spent. Used up. Expendable. Now worthless.
But then a thought hit me. The loveliness of the flowers was gone, yes, but their essence – the vital creative spark responsible for their previous glory – was still there, encapsulated within the bulb submerged beneath the soil. But there their hidden potential would stay imprisoned and eventually rot if kept in a place contrary to what they needed to survive.
Bulbs are like that. They're invisible to the world. But pretty dang powerful if given the right conditions.
Wait. I was soon heading up to fertile Smoky Mt soil that might nurture them back to usefulness. Maybe. I'd never seen many tulips at that high an elevation, but who knows?
So I'd gathered all the bald, ugly, lifeless-appearing little bulbs and brought them up to the cabin, where I'd troweled them into the hard ground on a whim. And then never gave them another thought.
Until now.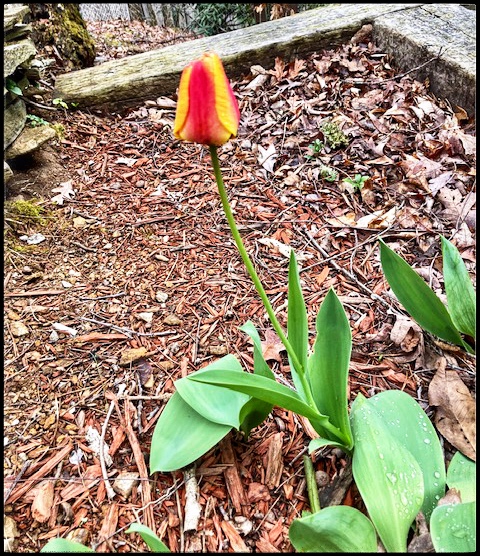 And gazing at the unexpected beauty popping up all around, yet another thought hits me. Only this one feels like a personal message implanted in my heart from Papa God.
Just look at what can happen when you give hidden potential a chance. It's called redemption. And it works the same way for people too. People who feel like they're spent. Used up. Expendable. Now worthless. 
People whose hearts just need to be transplanted to a nurturing environment where I can work with their submerged abilities to recreate something lovely. Something useful. Something amazing.  
Okay, message received, Lord.
Yep. I'm feeling kinda bulbous right now. And perky too. Even hopeful. Like maybe spring is really just beginning even though it's a smidge late.
How about you, dearest BFF (Blessed Friend Forever)? Shall we dormant bulbs burst into bloom together? I'd love to hear from you!