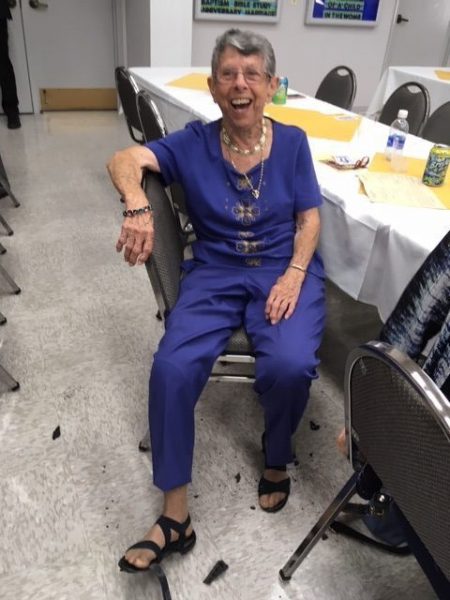 Dearest BFFs (Blessed Friends Forever), if you missed my usual Thursday post this week, I apologize. But there was a good reason. A terribly, horrible, gut-wrenching good reason.
I was enjoying a getaway at our Smoky Mt cabin on Wednesday when I received the call from my sister that I needed to come home ASAP. Our unflappable, ever-strong, dynamo mother was dying. It had happened so fast.
She had started experiencing what appeared to be asthma attacks over the weekend (she's dealt with asthma for 40 years but had not had to use her inhaler for nearly two years), but they would not be alleviated and only got worse. Cindy took her to the MD on Monday and they said, "Yep, it looks like her asthma's kicked back up again but with a vengeance this time." So they gave her steroids and another inhaler and sent her home.
She actually looked her usual kick-booty self the rest of that day and felt like going to breakfast the next morning at the ALF (Assisted Living Facility) she's been living at for the past five weeks. She sat with her old lady friends and chatted happily.
After breakfast, she went back to her room and must've had a breathing meltdown. An hour later, an attendant happened to stick her head in Mama's room to remind her of Exercise Class about to start (Mama, an ex-PE teacher, often led the group, even at 92), and found Mama purple and gasping for air. The ambulance took her to the local hospital where it was determined that this time it wasn't asthma, it was her heart, symptoms of which can mimic asthma. She had stealthily developed double pneumonia and heart failure (non-COVID related).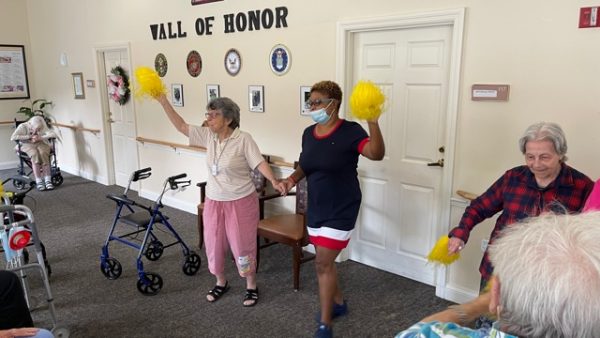 She was put on a bipap (have no idea if this spelling is correct) machine, which forced air into her lungs, but was so tight on her face it prevented her from speaking clearly and was most uncomfortable. She kept trying to pull at it so they had to restrain her hands. That's the way I found her when I arrived at 4 am Thursday after driving all night by myself from N.C. to Tampa.
But it was the grace of God that I did, for I only had a few precious hours with her before she lost consciousness. Late Thursday, Cindy and I made the heart-ripping decision to honor Mama's DNR and final directives for no life support. She had told us, "When it's my time to go, don't keep me here. Open the door and get out of my way."
So they removed the breathing apparatus and put her on comfort measures only.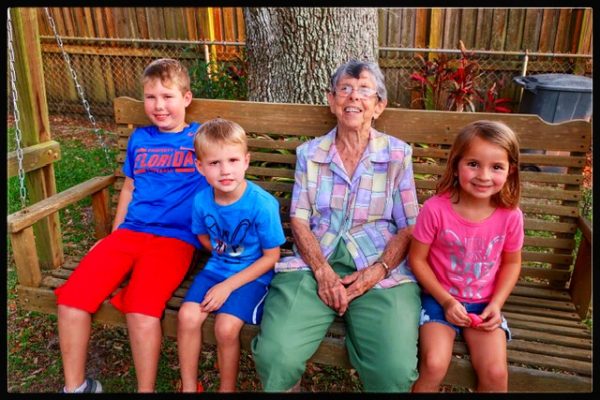 I guess we shouldn't have been surprised that our strong, stubborn, always-a-fighter mom didn't stop breathing like they thought she would. No, she kept fighting all night long, instinctively struggling for every single breath that refused to infuse her fluid-filled lungs as I sat by her side, swabbing her dry mouth and coating her lips with Vaseline (she never went anywhere without her Vaseline and taught me to do the same). I don't know if she could hear me, but I told her everything I wished I had told her when she could look me in the eyes.
Finally at 7:35 am, she breathed her last. The horrendous deep dredging gasps I had been listening to for previous 12 hours stopped suddenly as if a divine hand had seen enough of her struggle and turned off the faucet. It was time for her to be graduated to heaven.
It was a peaceful passing for Mama, and I hope above all that Papa God had heard my pleas during the longest night of my life to allow Daddy to meet her at the pearly gates with his arms wide open (they were married 66 years and never fell out of love).
Thank you, my dearest friends, for allowing me to share my story. I feel a certain amount of healing in doing so. I hope I have not caused you any additional pain in your own heart, or made you unintentionally revisit the passing of a loved one you have not yet resolved with Papa God.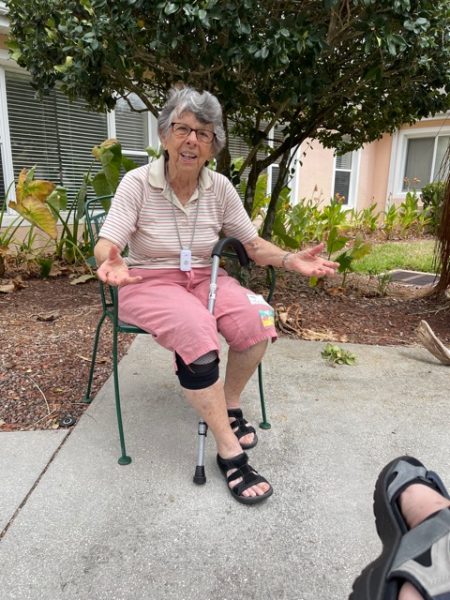 It's just so. very. hurtful. Isn't it? But I know death is something we have to eventually accept as part of life or we end up living in fear instead of really living and there's nothing abundant in that at all ( referring to John 10:10). Jesus would have just wasted his time here on earth.
This morning, every time I reach into Mama's jar of Vaseline that I used on her living, moving lips just yesterday, I am grateful for hope. How, oh how, could I possibly get through this without it?
When I stopped by Mama's room at the ALF late yesterday to pick up a few of her more valuable items, the loss of her hit me like a freight train. My mama, the woman who gave me life and knobby knees and a bulldog disposition just like hers was gone. There I was, surrounded by her most personal, intimate things, and I could still feel her, smell her, almost hear her laugh.
I wept. Hard. I felt every centimeter of my loss.
But then, like a warm invisible shower, I felt … hope. The waves of desperate grief were replaced by the hope of heaven. The image of Mama's joy at entering her eternal home and her spirit being reunited with the spirits of the Christ-believers who went before her.
I know – I truly KNOW – that because Mama and Daddy led Cindy and me to personal faith in Jesus Christ as our Savior as children, I will  see her again. And she'll probably tell me to stand up straight. And slip me $5 for a haircut (she kept my hair in a super short pixie cut until I was a surly teen, old enough to fight back and grow it long; forever after, even in my recent adulthood, she's tried to get me to cut it, but I've employed that bullheadedness I inherited from her to keep it long regardless).
Would you mind praying for me and my family as we sort out funeral arrangements and all the details that will have to be addressed in the coming months? I would greatly appreciate it. And I hope I can return the favor for you, dearest BFF, when you need my prayers to uphold you in your time of need.
Hugs, Deb