SOMEBODY TRIP THAT RABBIT!
Congrats to Randy Chitty for his winning caption for the week 4 photo caption contest (see right).
Randy's name will be entered into a drawing with the other weekly winners to win a free autographed copy of Too Blessed to be Stressed and a week's supply of his favorite Starbucks chill-out beverage.
We're going to take a break from the contest for a few weeks and resume in late September, with more of Marian Crawford's terrific nature photos and a chance to win some cool prizes.
In the meantime, I want to thank our photo caption judges for pitching in their time and talents: Jim, Chuck, Andie, & Cricket. You do a wonderful job sorting through the entries and choosing a winner that most embodies the spirit of Too Blessed to be Stressed.
And I must share my unbelievable news: Too Blessed to be Stressed just hit #3 on the Amazon Bestsellers List in the women/spirituality category! Yay God!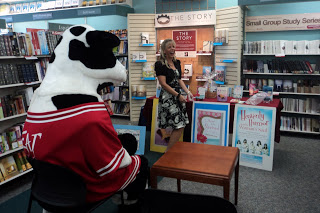 An utterly dedicated fan
Be sure to check out the newest 2-Minute Stress Busters at www.DeboraCoty.com (just click on Stress Busters). We're adding new ones almost every week!
Copyright Your Blog Name 2012 at DeboraCoty.blogspot.com