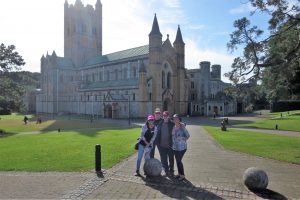 As innocent and historically ignorant as spring lambs, we arrived at Glastonbury Abbey, a 7th century monastery in Somerset, England. The Abbey once boasted the richest and most powerful monastery in England, and was the hub of activity in a large swath of surrounding countryside.
Until crotchety ole Henry VIII, probably in a vile snit between marriages, decided the monastery somehow threatened his manhood (didn't everything?) and had the abbot hanged, drawn and quartered as a traitor. Things went decidedly downhill after that.
All that remains today are ancient ruins, delightful period-true guides, and the magical possibility that the legendary King Arthur and Queen Guinevere were buried there. Two skeletons were actually discovered inside a gigantic hollowed oak trunk on the grounds, one wearing a leaden cross bearing the inscription "Here lies interred the famous King Arthur …"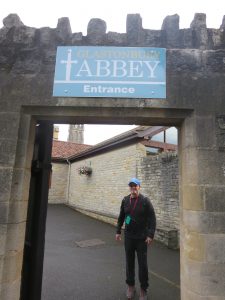 But that's a story for another time.
Our beguiling Abbey guide was a buxom middle-aged "peasant" woman with an Edith Bunker voice and razor sharp wit. She astutely zeroed in on the one person in our 34-person tour group who'd rather eat poisoned cockroaches than be the center of attention.
Him she mercilessly dragged forward, front and center, to unwillingly bedeck the garb and mannerisms of a 12th century Robin Hood-era friar.
Only instead of Friar Tuck, he was Friar Chuck.
Yep, you guessed it – it was my own dearly beloved Chuck.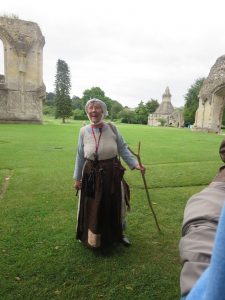 He was not amused. But I surely was. To my utmost delight, our lady of the hour began dressing my highly reluctant fella piece by piece in the attire of a man of the cloth, describing his daily duties and abbey lifestyle in the process.
Friar Chuck was required to mime routine daily activities – hauling water, digging graves, hoisting stones (during which I'm pretty sure I heard him mutter, "Just shoot me now"), but was not allowed to smile – certainly not! Unforgivable for a holy man of that time period; after all, life was one long drudge and a grim and vengeful God was hovering about, ready to smite the frivolous to smithereens.
Fortuitously, for this particular friar, smiling was not a major temptation.
Poor Chuck was forced to play the part and skulk around the grounds in his hooded robe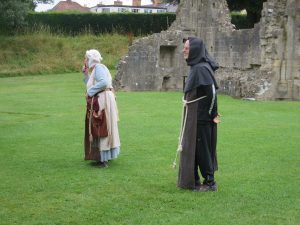 for the lion's share of our tour, enduring the stares and smirks of tourists far and wide.
Totally cracked me up. A memory I'll chuckle over always.
I must say, my little mister handled his unwelcome notoriety very well, for a guy whose unsuccessful portrayal of a tree in a kindergarten play ruined all future stage aspirations.
(I know, I know – how can you botch a tree?)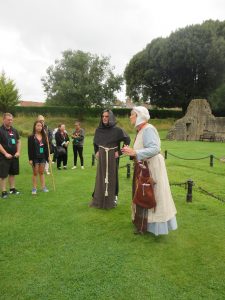 So stay tuned for further adventures of Friar Chuck and Maid Deberan (close as I can get to Marian) as they cavort around jolly old England. Minus an abbey robe.
Friendly reminder:  Please be sure to subscribe to my blog if you haven't already (box at top right of your screen).
My blog has recently moved; BBFFs who subscribed at my previous blog site will not receive posts directly unless they subscribe again.
Many thanks!