(Continued; scroll back to part 1, "My Year at the Airport")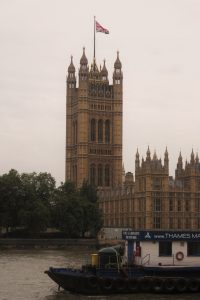 So after much ado, we finally made it to London. Our luggage, however, had been distributed among the multiple airports we'd been rerouted to at some point thus far on our ill-fated journey.
"We really don't know where it is," the Heathrow airline agent ruefully admitted, staring at her computer. "Give us your tour stops for the next five days and when it turns up, we'll try to find you."
"Try" is not a happy word. We knew it would take an act of Parliament for the airline to track us down after we left London.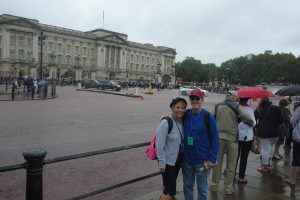 So our first vacation day passed in the same clothes we'd wallowed around numerous airports and planes in for the previous 24 hours.
By the second day, after sleeping in these same clothes and touring London in them on a cramped bus, we were starting to smell a bit rank. Our wrinkles had wrinkles. We felt and looked grody. The hotel provided toothbrushes, but that was the extent of their hospitality.
None of our lost luggage brigade wanted to wander around London nekked (although by the fashions I observed, I'm not sure anyone would have noticed) so the only other options were to buy replacement clothes (good luck fitting them into our already bursting suitcases) or hang tough and pray hard for our bags to arrive before we left London.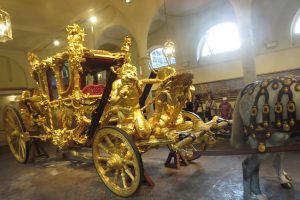 That latter option obviously requires a large measure of trust. But you know what? After 45 years trusting Papa God to meet my needs, I'm just naively trusting enough to pick door number 3.
So I recited John 16:24 (I just love praying scripture, don't you?): "Ask, and ye shall receive, that your joy may be full" (JKV). Then I went out on a limb and gave Him a preferred time deadline. After all, He did say to be specific in our prayers, right?
The deadline passed. No luggage. People were starting to back away from us when we stood in queues.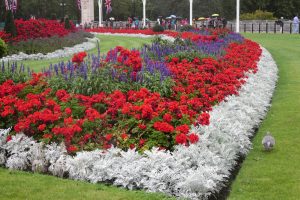 Our last day in London, I boldly approached the throne of Almighty God. "What's the holdup, Papa? I asked like you said, but I haven't received yet and my cup of joy does NOT overfloweth."
Now you might not believe this, but I declare it's the truth. My spiritual ears heard His response as clear as a July sunrise, "Look, I'm working with people here."
"Okay," I reluctantly acquiesced. "We leave London at 7 a.m. tomorrow. Let's shoot for tonight then, if You don't mind."
But dinnertime came and went. No luggage. When the rest of my group went on a shopping spree that evening, I stubbornly refused to buy anything. Nope. I held to my dubious belief that our bags would even yet turn up. Papa God is trustworthy. I was willing to put my stench on the line to prove it.
So … what do you think happened? (Can you say cliffhanger? Hey, gotta have a little fun wi' cha!)
Tune in next time for the thrilling 😀 conclusion.