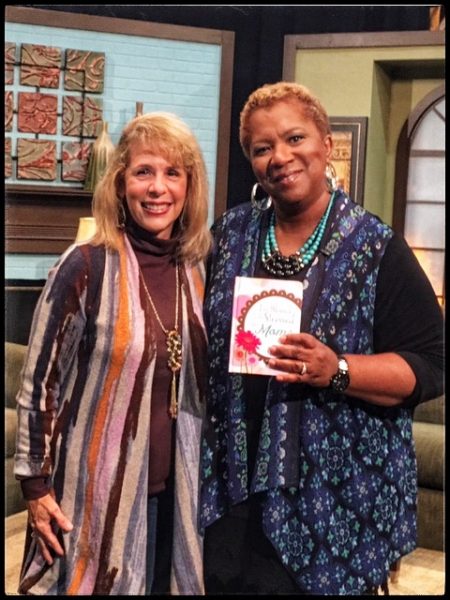 This week, I had the privilege of hangin' with one of my longtime pedestal-people, Babbie Mason, chatting about my new book, Too Blessed to be Stressed for Moms.
You probably know Babbie as an incredibly gifted singer from her mega-hits like "All Rise," but it was pure joy to get to know her as a crazy, fun-loving soul-sistah. That girl can cut loose, honey.
You know we Southerners, when you get us together, can surely raise the roof, and that's what we did on the set of Babbie's House, the well-loved show on WATC, Atlanta's 57.
People often ask what it's like filming television shows, so I'll be happy to oblige.
It was so much fun taping the half-hour show, watching the long-necked boom camera swing gracefully in and out like it was doing a ballroom dance, trying to keep up with the little red lights popping on and off on the three cameras aimed at us (I never can quite grasp which one is live until it pops off, so it appears that I'm staring into outer space), and reminding myself to keep my back making contact with the couch pillow behind me so not to block the side camera shot of Babbie (my tendency is to lean forward when I'm talking).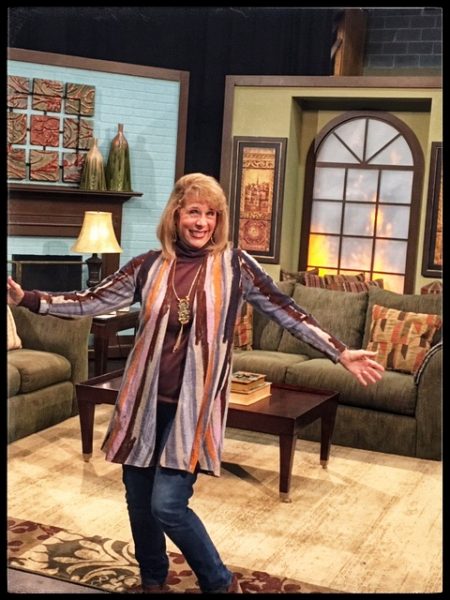 Many of the couches on these sets are built for large people (they want to accommodate everybody) so when a vertically challenged person like me sits down, the couch kinds of folds in on you like a cocoon and you disappear into an alternate upholstery world.
The answer is hidden cushions. Cushions behind, cushions beside, and sometimes cushions beneath. To make me appear like a normal person instead of a munchkin.
The problem is that if you move wrong (and you all know how animated I am when I talk), you screw up the carefully choreographed shot sequence and a pseudo polite voice thinly-veiled with irritation whispers in your ear to please be still.  Right. Telling me to be still is like trying to lasso a hurricane. Good luck with that.
So I tried to reign it in, but … sheesh. I kind of am what I am. A jumbo wiggly worm. I fully expected all the prop pillows to avalanche and dump me on the floor at any minute.  Just one more thing to feel too stressed to be blessed about.  😆
In the old days of Christian tv interviews (I've been doing these for about 10 years), many stations would do full hair and make-up on you (the guest) as well as the host(s). You'd arrive an hour early for the taping (few are live; I suppose that's so they can try to fix your flub-ups) and they'd escort you back to the make-up room where every single horrible blemish would be revealed by spotlights surrounding a huge mirror about 3 feet in front of you.  Yikes!
You'd barely get over the shock of seeing the worst possible you when the you you'd always known disappeared beneath layers of concealer and make-up. Including, of course, blinding ruby red lipstick that looked like you just kissed a newly painted caboose.
And the hours you'd painstakingly spent fixing your hair just right were totally disregarded as a multi-pierced, spike-haired gal who'd never laid eyes on you before metamorphed your do into whatever style was currently in (which was VERY different than the way you normally wear it).
Apparently you weren't as in as you thought you were. You would not recognize the finished product – a chic, appears-to-have-it-all-together, hip author. Certainly not you. Still, it was great fun pretending to be a little girl again playing glamour do-over for a few hours.
But these days – budget cuts being what they are – the best you can hope for is a fleeting lick-and-a-promise (that's the way I dust my house) powder puff touch-up from a harried gal trotting through the set.  Sigh. Guess if I want to play make-up, I'll have to do it with my grand-princess.
If you're fortunate, the host is able to crack your stiffness (and wide-eyed fear) and make you feel like she's genuinely glad you're there. Babbie is wonderful at doing this; her loosen-up-girlfriend-it's-just-me smile is so real and her authentic interest in your ministry so endearing, you instantly become as comfortable as the hot lights will allow.
So you begin to talk. And talk. And talk some more. Until the man behind the camera starts making weird faces and the lady with the earpiece starts waving her arms like she's landing a DC10. So maybe it's not a good thing to get too comfortable for someone with blabber-control issues like me.
But it sure is fun.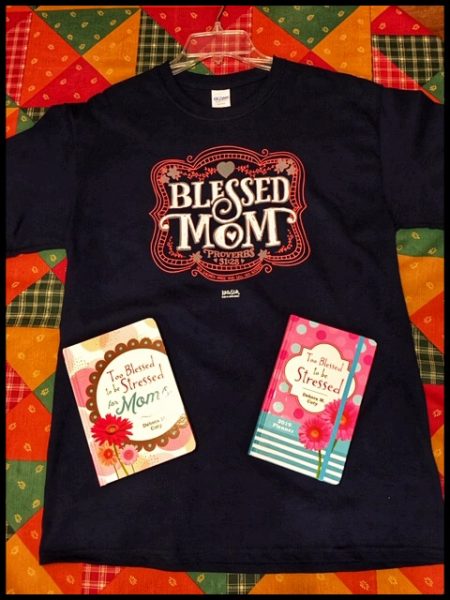 Listen, BBFF (Blessed Blog Friend Forever), I hope you're able to catch the broadcast at 4 pm on Monday, Nov 19 (which also happens to be my birthday; nope, I'm not going to tell you which one so don't ask) – what a cool birthday blessing! They'll be live streaming it at www.WATC.tv; I'll shoot out a reminder that morning on Facebook (if you haven't yet "liked" my author page so that you see my posts, please do it! It's "Debora M. Coty, author"). Hugs to you!
*Hey, don't forget about my "Blessings Fall Your Way" giveaway happening NOW at my website, DeboraCoty.com, in honor of Too Blessed to be Stressed for Moms; just click on "Freebies" and look for the giveaway. Everything you need to know to enter is right there. The drawing will be on Oct 30 so don't put it off!