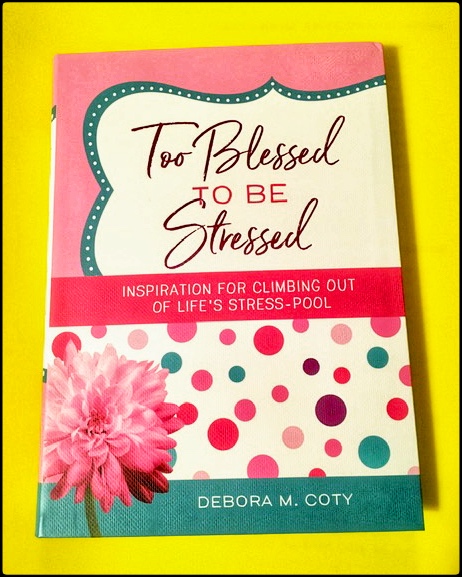 It's my absolute pleasure to announce the FIVE winners of signed copies of my beautiful re-release of the original Too Blessed to be Stressed (first published in 2011), the book that was the "Mama" of the other 30 "Baby Blessings" in the bestselling Too Blessed series!
I know, I know – I promised 3 winners in the giveaway I told you about in my e-newsletter last week … not to be confused with this blog, my FREE e-newsletter comes out monthly – sorta – so if you don't automatically receive it in your inbox, be sure to click the subscribe button today so you can get a front row seat to the next great giveaway [HINT, HINT: it's coming SOON!].
Anyway, this morning (my birthday!) as promised in my newsletter, for my birthday gift to you, I randomly drew three names from those of you who wrote me that you are "counting your blessings" this season of Giving Thanks, but I couldn't stop! I just kept pulling more BFFs out, and ended up with five instead of three!
So I hope these fine BFFs will feel blessed and loved and cherished, because you are!
Congrats to Windy Brown, Michelle (no last name given but there's a 1962 in your edress), Cindy Pacleb, Christie Torode, and Debra Ball!
Woohoo! So happy to share my birthday blessings with my peeps! (Ladies, please PM me your mailing addresses to receive your prize!)
But hey, if you didn't win this time, don't hang up your hat! There's another awesome giveaway going on AS WE SPEAK at my website; to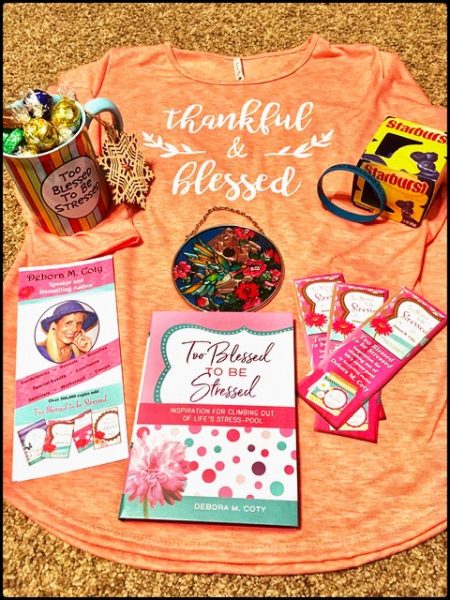 enter, just click on "Freebies" then the name of the giveaway: Count Your Many Blessings Giveaway. 
This excellent prize package includes a copy of the brand new Too Blessed to be Stressed re-release, plus a "Thankful & Blessed" tee, Too Blessed to be Stressed mug filled with choco-goodies, a lovely "blessed" suncatcher, a Too Blessed to be Stressed bracelet, and more! The winner will be randomly drawn on Thanksgiving Day (Nov 26) and announced right here in a blog post.
And … to bless and encourage our entire community of BFFs this Thanksgiving, in that post I'll include some of the blessings you told me that you're grateful for. Hey, you just might see your name in print!
So hop to it, my friend – get your name in the fedora today!
Hugs and best wishes for a very blessed season of Thanksgiving,
Deb