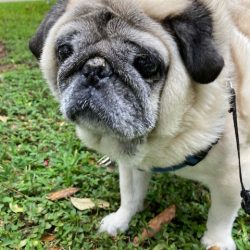 Call me a quivering pile of mush. Go ahead. It's true. I'll admit it.
So when this exquisitely squishy face needed a temporary home during the month of Feb – not coincidentally the month we celebrate love – I couldn't help but raise my hand.
The only trouble is that he's older than Methuselah. He snorts. He drools. He barks into the wee hours of the morning. He can't see, hear, or walk. But otherwise he's a barrel of laughs. Oh, wait. Did I mention he wears doggie diapers?
C'mon now, fess up – wouldn't you have volunteered to dog sit him? Stop shaking that head, I know you would.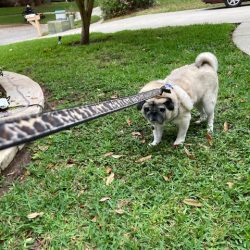 His name is Piglet. And he certainly fits his name. He belongs to a friend who's experiencing a rough patch right now and is going somewhere she couldn't take him. There was simply nowhere else for Piglet to go. So he came to the Coty abode. As our house guest. For four weeks.
Just shoot me.
My husband might have mentioned that option once or twice already.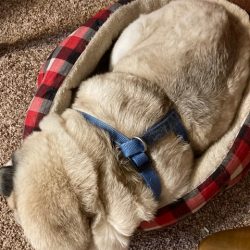 Did you know that old pugs sound exactly like big black old fashioned steam locomotives when they breathe? Well, they do. My windows rattle when Piglet gets to heaving good. That would be any time he tries to hoist himself up and move more than three linear feet in any direction. He covers  about six inches per minute (has to stop frequently to let the train catch up) and his fave tactic is what I call "Donkey Kong" where he stubbornly plants his front feet and leans back resistively against his leash like he's waterskiing.
"I ain't going anywhere, sweet pea!" is broadcast all over his wrinkly face.
I've tried pulling him anyway when he gets all donkey kongy on me (I figure I have at least 50 pounds on him) but he ends up tucking and rolling onto his side in a very shrewd defensive maneuver, which only adds another layer of dirt and grass to the debris covering my carpet.
That's another thing about pugs – their coats shed handful after handful of the thickest bear fur you've ever seen. I believe a herd of grizzlies would leave less debris in their wake. My living room looks like the snowstorm of the century hovered for two weeks. I declare I could make a decent wig with the hair I pulled from my vacuum cleaner yesterday.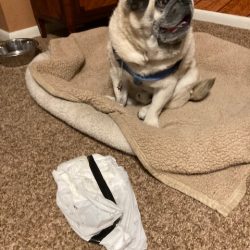 My poor little pooch Yaz doesn't know what in the world to make of this unapologetic intruder into his kingdom. He gawks at Piglet like he's not even sure what he is. Every time Yaz goes to take a nap in his special little bed, it's already occupied. Although it's quite an entertaining feat to see Piglet tucking and squeezing his massive wrinkled bulk into the tiny occupancy of a dog a quarter his size.
But you know what? Regardless of his outward appearance and ancient registry, Piglet is no dummy. He can outwit me. (Although some may not give that statement much credence.) He has somehow removed his diaper every single night since he's been here, and in the morning, leaves it folded neatly beside his bed. Still perfectly intact like an oversized toddler pull-up.
He gets that ding-dang thing off even when I've duct taped it on him.
Um, maybe you'd better not mention that last part to the Peta people.
Oh, and get this – he's figured out that if he barks long enough and obnoxiously enough at night, I'll finally roll out of bed and give him a doggie sleeping pill subterfuged in a chewy treat to shut him up. Yes, I know. Who's training who?
So if you run into me sometime during the next few weeks and I look a little, well, peaked … you'll know why. Don't say anything. Just pat me on the shoulder and place a comforting chai latte in my hand.
It's all because of squishy cheeks.