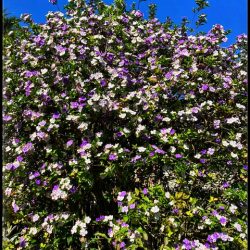 As a heaven-sent follow-up to my last week's post on how spring has sprung here in central Florida, I witnessed a super cool scene yesterday that'll resonate in my memory as a unique-moment snapshot for years to come.
It happened as I was driving along a main thoroughfare – in a hurry as usual – lost in thought about all the errands ahead of me and the limited time in which to err them.
A herd of middle-school aged kids were frantically pedaling their bikes on the sidewalk parallel to me, presumably heading to the school that was just up the road a piece. A quick glance at my watch resulted in a tut-tut-shake of my head – they were gonna be cutting it close to beat the first bell.
Then as I passed a recessed garden between houses that was bursting with vibrant spring colors and heady aromas, something interesting caught my eye. There, a good fifteen yards off the beaten path, a young teen gal – probably 13 or 14 – had detoured from her tribe's persuasion and pulled her bike over beneath the most enormous Yesterday, Today and Tomorrow plant I'd ever seen. She was standing astride her bicycle, gently immersed in the branches. This tremendous specimen was no longer merely in the bush category like mine at home, but instead a full-blown tree, with long reaching branches absolutely dripping with gorgeous purple, lavender, and white blooms (hence the name as the bright purple blooms fade day by day: Yesterday, Today and Tomorrow).
This young woman's head and most of her backpack were immersed in the cascade of heavenly blossoms and her arms were extended upward, reaching for more, more, more of this incredible display of beauty. To the passerby (me), in this posture she appeared to be worshipping her Creator in the awe-inspiring, all encompassing, massive blessing of His creation.
Just. Whoa.
My heart suddenly flooded to overflowing with gratitude to my Creator too, zero to 100 mph.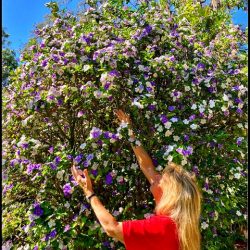 Maybe she really was. Worshipping. I like to think she was. I know I certainly was after I witnessed her tenderly caressing and totally enjoying the mass of fragrant blooms covering her hair, face, and shoulders.
I glimpsed her in a double-take flash as I drove by, no more than 5 seconds for blazing this mental snapshot of someone else's life into my brain, so there was no time to whip out my camera for a real photo. On your right, I tried to reenact the scene on my neighbor's Yesterday, Today and Tomorrow, which is twice as large as my little chest-high model but not half as enormous as the one the teen gal was enjoying with unfettered wonder. Unfortunately, I couldn't really get my head inside the limbs as she had done.
Sadly, I couldn't quite capture the same majesty, the awe, the heart-melting sweetness exuded in the pure joy of the original event.
But you get it, don't you?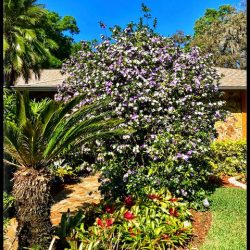 This gutsy gal left her mainstream pack and intentionally detoured – even when she [no doubt] couldn't afford to miss the bell any more than the rest of them – to revel in the fragrant blossoms and receive the soul-blessing just waiting there for the taking. None of the others would. Or did. They probably didn't even see the potentiality of the blessing. Because they were so intent on keeping to their schedules and appointments and duties.
Just like you. Just like me. Sigh.
Okay.
So I'm hereby deciding to make the time today to stop every time I see a wonderous delight of spring and smell the blossoms. Even if I'm late for school and the bell rings without me.
Will you join me? Even if spring hasn't yet sprung through your snow and ice, the principle remains: will you pause momentarily to praise your Creator for some delightful unexpected blessing today?
Hugs to you, dearest BBFF (Blessed Blog Friend Forever)!