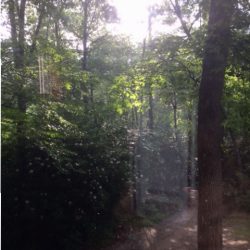 While spending some time up at our remote Smoky Mt. cabin this month, I've been awestruck by the ever-mysterious white mountain mist – just as countless folks over the centuries have been. Someone way back when, I suppose, was so inspired they even named the whole range for it … the Smokies.
It's an interesting phenomenon I don't get to enjoy in my native flat Florida. You'd think all that humidity down there would provoke some major mists of its own, but all it seems to know how to do is frizz hair.
In the Smokies, at times the mist is so thick and rich, present and encompassing, you feel it right down to your bone marrow. Like it's always been an integral part of you and always will be.
Other times, it's wispy and swirling, winsome and playful, showing a lighter, soulful side that's quite endearing. It caresses the skin the same way love caresses the heart.  My favorite time of day is the early morning when the very first sunbeams breaking through the canopy of leafy tree branches begin playing tag with the mist, eventually chasing away even the most elusive lingering patches.
But every so often, particularly when a thunderstorm has just barreled over the mountain, the residual mist seems heavy and sad, remorseful and … dare I say … mourning. And yet despite the weightiness of spirit, there's an underlying stirring of hope.
Reminds me of the Holy Spirit's multiple roles in our lives: at times thick and rich, present and all-encompassing; sometimes wispy and whirling, winsome and playful; and when dark storms have assaulted us and we've not leaned into our faith as we could've, heavy and sad, remorseful and mourning.
It makes me pause in a moment of gratitude in recognition that we have a triune God who goes to the trouble to take on so many amazingly different forms to help us through our life journey.  He loves us that much.
Thankfully, the melancholy side to the mountain mist doesn't last long. Just until the sunbeams break through once again.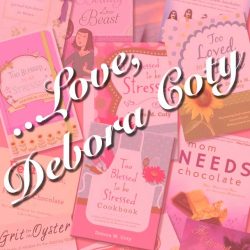 Say, BBFF (Best Blog Friend Forever), who can share the scripture that last thought brings to mind? (Hint: it's in the Psalms.) Know what? I'll randomly draw a name from all who respond correctly (even if it's a different verse than I have in mind, as long as it captures the general idea) and send you a free copy of my Too Blessed to be Stressed: 3 Minute Devotions, how's that?
This is gonna go down within the next few days, so don't tarry – respond below as soon as you come up with the answer! The winner will be announced right here on my blog in my next post so if you're not already subscribed, do it now (button on the right of your screen).