Want a New BFF? Instead of a Best Friend Forever, become one of Debora's Blessed Friends Forever!
The Blessed Friends Forever Club is a special group of women who team up with Debora to help expand her ministry and assist with promoting her books. Members get to enjoy special perks! It's FREE. All you have to do to become a member is sign up below.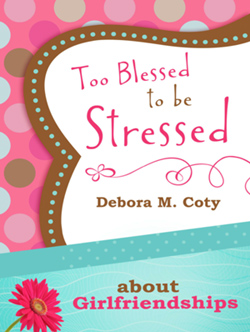 There are many fun benefits to joining the Blessed Friend Forever Club, such as:
Reading chapters of Deb's new books before everyone else.
Access to special teaching from Deb created just for this group.
Participation in exclusive conference calls and contests with Deb.
Get a FREE copy of Deb's exclusive 23-page e-book, Too Blessed to be Stressed About Girlfriendships.
In return, members agree to complete specific marketing activities, such as:
Post book reviews on Amazon.
Post book snippets on Facebook and Instagram.
Recommend Deb as a speaker to women's ministry leaders.
Help spread the all-important message that as Christians we are all "Too Blessed to be Stressed!"
Ready to join the Blessed Friends Forever Club? Sign up below: