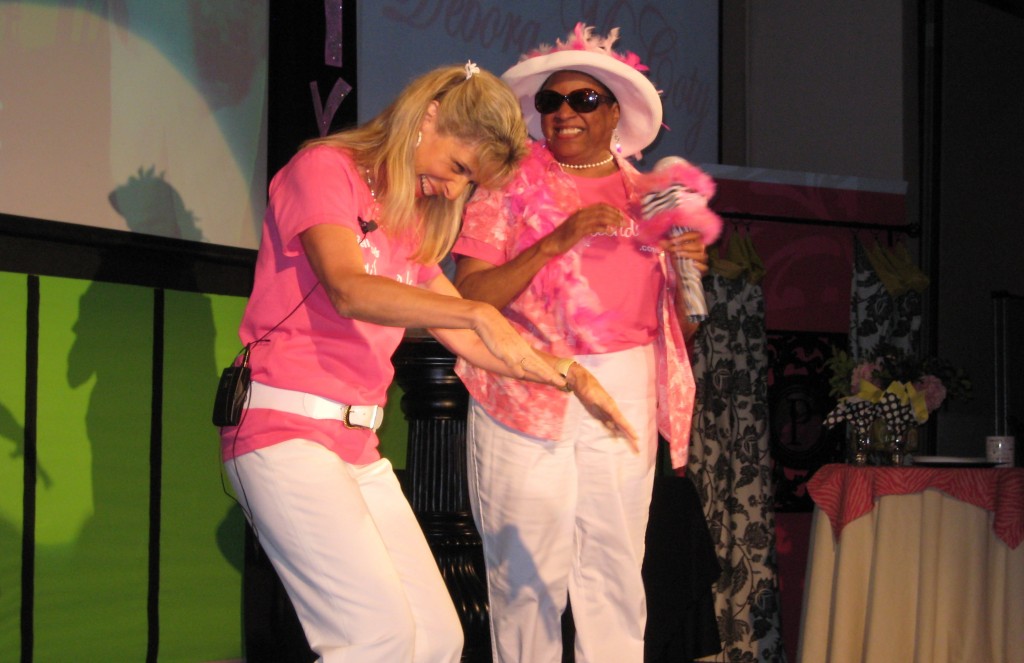 ---
"We recently had the pleasure of hosting Debora Coty as a speaker at our south Florida church. She was just as wonderful as we had anticipated! For an hour the women of our church and many from our community were enthralled with her teaching/sharing on how to feel "Too Blessed to be Stressed."
Deb was vivid, entertaining, and hit all the spots where women (and men) need to focus so as not to become overwhelmed so easily.
I endorse Debora 100% as a speaker and we fully intend on having her back again, Lord willing. I understand she has already been booked by other churches in our area as word spread via delighted attendees from our event." ~ Lee Kraus, Co-Chair of Trustees, First United Methodist Church, Naples, FL
---
Tampa American Association of University Women (AAUW) was honored to have Debora Coty as the keynote speaker at its annual Fundraiser and Luncheon.  Debora shared her expertise, wisdom and insight about the theme, Building a Champion Mind: "Decom-Stress" for Success!  She expressed creative and usable ideas to "decom-stress", a phrase she coined, that emphasizes the word stress. Debora exceeded our expectations and at the end of her presentation we knew, without any doubt, we were "Too Blessed to be Stressed."  She was friendly, focused, and exceptionally knowledgeable.  She inspired and motivated members and their guests.  We recommend Debora to any group seeking to educate and inspire its members. ~Dr. Gloria L. Hilton, Director of Tech Trek/STEM
---
"Debora ministers with humor, humility and honesty! Women seek her out to share their burdens and trials because she is willing to be vulnerable with them. I am overjoyed that God brought her to our city-wide weekend women's conference and into my life!"  ~Kathy Rorer, Director of Women's Ministry, Heartland Church, Paducah, KY
---
"Debora is an amazing and friendly woman! Beautiful smile … she makes you feel important." ~Lynn, attendee at a KY women's conference where Debora brought her Too Blessed to be Stressed message
---
"I recently had the benefit and blessing of hearing Debora Coty share at a women's conference. Her focus topic was Fear, Faith, and a Fistful of Chocolate. Debbie was not only engaging; her content about the subject matter of fear is great and very needed among women! The information is clear, easy to understand and relevant to every woman's life. Her tools to fight fear are specific and practical for easy implementation into my life and into those I coach. I highly recommend her for your future speaking needs. You will be equipped and blessed!" ~ Arnita Taylor, M.T. (ASCP), MSL Leadership Development Coach and Speaker; EIGHT Ministries, DFW
---
"Debora Coty is witty, warm and humble. She delivers much needed truth with humor and grace. She was a delightful addition to our conference." ~ Lali Jean Stanley, Shiloh Restored (Director of the 2013 Restored Women Conference)
_______________________________________________________________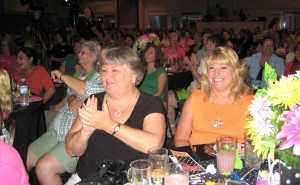 "Debora Coty is a delight!  She was our guest speaker at our women's event, Living the Chocolate Life, at which 500 women attended… Her message from her recent book, Fear, Faith, and a Fistful of Chocolate, was both practical and uplifting.  She reminded us that our "Papa" God always gives us victory over fear. Her sense of humor is contagious!"~Debbie Weisemann, Minister of Outreach, Connections, Women's and Prayer, Bell Shoals Baptist Church
_______________________________________________________________
"Debora Coty has been a speaker for multiple Women's Ministry events at First Baptist, Riverview (FL). No matter if the topic is chocolate, or fruit of the spirit, or the love and grace of "Papa God," she has engaged, encouraged and enlightened us. Our women tell us how they appreciate Debora's down to earth personality and how she teaches biblical truths while making us laugh (and cry) with her personal stories. We will keep inviting her as our guest speaker, and we endorse this sister wholeheartedly for your events as well."
~ Lisa Weaver, Women's Ministry Director
_______________________________________________________________
 "Debora has such a great sense of humor, we all just loved having her visit our group to discuss the background and details involved in writing her books. You gain such an appreciation for the stories after hearing her describe the "real" characters. After your first visit with Debora, your book club will be inviting all their friends to come hear her the next time. We look forward to reading more books by Debora Coty."  ~ Sandi L. de Laski, Coordinator, Monthly Book Worms Club
 _______________________________________________________________
"Debora's warm, friendly wit and wisdom that is so evident in her books charmed the women at our Spring Banquet as she presented a message of encouragement and hope."  ~ Julia Thomas, Trinity UMC, Opelika, AL
_______________________________________________________________
"Debora Coty was an excellent speaker for our women's conference.  She has a way of making women laugh with her quirky sense of humor while still delivering a powerful message from God." ~ Lindsay Garrett, Women's Ministry Director, Southside Baptist Church, Brandon, FL
_______________________________________________________________
"We invited Debora to speak at our women's brunch and then invited her back again the very next year. She was insightful, heart-warming, and sincere. Her life experiences kept us laughing and shedding tears. Debora brings wisdom with the warmth of a best friend's approach." ~ Liz Gibbs, Women in Ministry, Evangelical Presbyterian Church, Plant City, Florida
_______________________________________________________________
"Debora Coty was a total delight at our ladies Spring Brunch. With much laughter and a few tears, we all thoroughly enjoyed Debbie's candor, spiritual insight, and inspiring humor. God has truly given Debbie a gift of sharing from her heart and touching yours. We look forward to having her back again!" ~Jan McRae, Starke, Florida
_______________________________________________________________
"Debora Coty was just what our church needed at the time.  Our pastor of 25 years passed a few weeks before her scheduled engagement and we can't thank her enough for speaking at our women's luncheon under such circumstances.  She was able to share her gift of wit and humor at a very stressful time for us. Debora's topic, "Too Blessed to STAY Stressed," was just what we needed to hear. Due to her insight and encouragement, before the luncheon was over we knew we were truly blessed. We consider Debora a friend and look forward to her next speaking event with us."  ~ Carolyn Gutierrez, Women's Ministry Leader, Holly Springs Baptist Church, Franklin, North Carolina
---
"Fun, uplifting & able to drive spiritual truths home through humor & life stories"… describes Debbie Coty's speaking engagement to our women's group. Her creative and witty delivery engages the listeners. She uses everyday happenings of life that we all relate to. This helps break down barriers & opens hearts to the things of God. Women, churched or unchurched, can feel at home with Debbie's authentic message of hope presented in a non-preachy way. You will be encouraged & your spirits lifted with Debbie Coty as your speaker." ~Pam Lehman, Valrico, FL
---
"Debbie Coty is a vibrant speaker who delivers her message with wit and sensitivity. She possesses the rare talent of transforming profound truths into relational tools for her audience's increased faith and success in today's world." ~Elaine Bonilla, Seffner, FL
---
"Debbie Coty is an amazing, funny and energetic speaker. We had Debbie come and speak to our MOP'S group and she was truly a blessing to us mothers with preschoolers. Her encouragement to persevere in our mothering through relying on Christ was just what our MOPS moms needed to be refreshed. She used passion, gentleness and a tremendous amount of humor and wit to convey her message. Our MOPS group was uplifted and challenged in numerous ways by Debbie. She was an awesome guest speaker…. a must have for your MOPS group, women's group or Bible Study!!!!" ~ Tara Patrick – MOPS Coordinator, Willow Creek Church, Winter Springs, FL
---
"Debbie has the uncanny ability to reach down into the stressful muck and mire of everyday life and lift you right out of those joy-sucking dully-funks with her hilarious stories and refreshing insights!" ~Cindy Hardee, Tampa, Florida
---
"Debbie's choice of topic was the perfect message for our group and it was obvious the ladies enjoyed it very much because there was a lot of laughter and head-nodding. With audience participation like that, you know you've got a winner! I give my highest recommendation for Debbie as a speaker for any women's group." ~Dee Grantham, Coordinator of the First Baptist Women's Tennis League, Brandon, FL
---
"Our sixth through twelfth grade students thoroughly enjoyed Mrs. Coty's presentation of A Writer's Journey. They were inspired by the fun, practical writing tips and guidelines Mrs. Coty offered through her own writing journey, and her captivating book had them eager to read on. Her personal example is an encouragement to writers of any age – how to create stories that are both well-written and inspirational. We are looking forward to having her back to challenge and inspire our students once again." ~Anna Ballard, English/Literature teacher, Trinity Christian School, Opelika, AL
---
"The moderate as well as voracious readers in our homeschool group were highly encouraged by Debora Coty's presentation of "A Writer's Journey." God was definitely in the details of Debora's journey and the students did not miss Him. From a teacher's perspective I was glad to hear Debora's explaining metaphors, similes, double entendre, and concise writing – all tops on my agenda for our current group Shakespeare study. Debora's positive suggestions for stronger non-fiction writing helped the children gain confidence for improving their topical reports as well as for taking on the challenge of writing fiction. The dramatic reading of the tense scene from A Distant Shore highlighted everything Debora taught them about showing, not telling. My daughter finished The Distant Shore in three days and can't wait for the sequel, Billowing Sails. Thanks, Debora, for sharing your expertise, your life and your story with us." ~Dinah Davis, Homeschool Educator, Highlands, NC
---
"Thank you Debbie for your wonderful presentation to our homeschool group. The excitement and enthusiasm you have is contagious! It was so much fun to watch the kids "getting it". My daughters came home with a renewed vision for writing. I highly recommend this program to any group or school. You will be blessed by Debbie's visit. I know we were." ~Lise Dews, Homeschool Educator, Cashiers, NC
---
"Your presentation for the Writer's Workshop at the Seffner/Mango Library was a huge success. Twenty-three prospective writers, young and old, were mesmerized by your style, which was peppered with humor. Your content and spontaneous personality generated such contagious enthusiasm to the attendees, they left with eagerness to put pen to paper. All of the very positive written evaluations asked for more workshops from you in the future and we will certainly comply. Thank you so much and we are so proud to have an author of your stature and caliber as a resident of Seffner." ~Charmaine Andrews, President, Friends of the Seffner/Mango Library
---
"A wonderful and humorous evening of discussion about the ups and downs of motherhood and why we all NEED chocolate! Debora Coty's stories were entertaining and touching. We all enjoyed her very much, and look forward to reading more of her latest book, Mom Needs Chocolate." ~Amy Frank, Regional Manager, Mothers & More of Jacksonville, FL
---
"Debora Coty is an amazing lady who speaks from her heart into the hearts of many. She was the speaker for our International Spring Ladies Retreat and she handled the multiple languages spoken with such grace, a tremendous amount of humor, and a wonderfully contagious smile. Music is a universal language and everyone enjoyed participating in the animation of her original songs with lots of laughter. She painted word pictures that made us feel we were actually part of her stories and inspired us all with her books. It was a pleasure having Debora with us." ~Donna Pannell, Free Methodist Church Women's Ministry International
---
"What an authentic, inspirational, joy-filled, and enthusiastic woman of God Debora Coty is! At our spring banquet, Deb hilariously shared not only with our own ladies, but women from all over town, de-stressing techniques she's developed based on her own and others' stressful thoughts and experiences. She truly blessed each of us with her authenticity, empathy and humor. If laughter is the best medicine, Debora knows just how to deliver that medicine in very large doses!" ~Sandy Simonson, Women's Ministry Director, UMC Pahokee, FL
---
"We had the pleasure and privilege of hearing Debora speak to our women at our annual Christmas Coffee. She brought joy, laughter, and spoke God's truths in a way that inspired us to begin enjoying our holiday season and quit stressing. She taught us to KISS stress goodbye (Keep It Simple, Sister). I, for one, put this into practice and yes, what a difference! Our women are still talking about the fun song Debora taught us about remembering Who's in control! She made our event very special." ~Debbie Price, Director of Women's Ministry, South Bay Church, Riverview, FL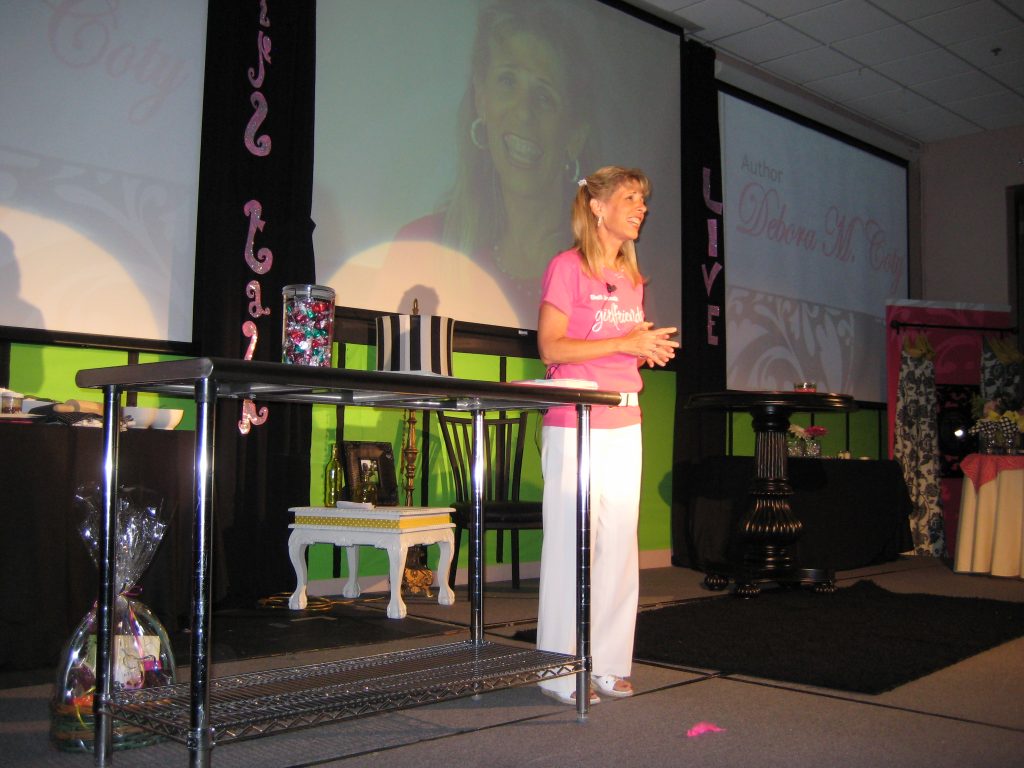 Click here for details about Deb's speaking presentations.